IOS Function to Distribte Certificates to Computer Students
By Safdar Khan, Chairman, Delhi Minority Commission
May 07, 2012
IOS Conference Hall
Organised by
Institute of Objective Studies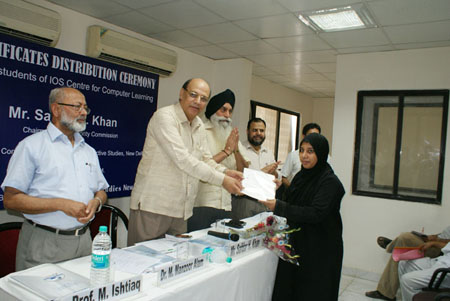 Mr. Safdar H. Khan, Chairman, Delhi Minority Commission distributes certificate to the students
Delhi Minorities Commission Lauds IOS Role in Computer Education to Girls

New Delhi, May 7 Delhi Minorities Commission (DMC) Chairman Safdar Hussain Khan today lauded the role of think tank Institute of Objective Studies (IOS) in spreading computer education particularly among girls and women. Speaking on the occasion of a function organized to distribute certificates to the 15 girl students of second batch completing different computer courses from IOS Centre for Computer Training in November 2011, the DMC chief said the IOS centre was the best performance-wise among 16 NGOs on its panel with regard to providing computer education.

Assuring to render every possible help and cooperation to IOS in future, he emphasized upon spreading both general and technical education while focusing on girls and women in minority-concentrated areas. He also said that it had been decided to open three ITIs in Muslim-majority areas of Delhi, giving priority to girls and women in the light of his talk with Delhi Chief Minister Sheila Dikshit, and initiatives had already been taken in this connection.

Dwelling in detail the schemes of the Delhi Minorities Commission for the progress and empowerment of the minorities, Safdar Khan said besides computer education, coaching, personality development and free legal counseling, steps were being taken to exempt those applying for loan up to Rs 1.5 lakh from the condition of a guarantor to start small businesses under the scheme of providing loan to minorities on minimum interest in the light of his talk with and directions from the Delhi CM.

Guest of honour Pushpinder Singh hoped both Delhi Minorities Commission and IOS would jointly work for the empowerment of minorities in Delhi.

Recalling the appreciation of IOS and advice to focus on girls education by Delhi CM Sheila Dikshit in her remarks during her visit to its headquarters on June 26, 2004, IOS Chairman Dr M Manzoor Alam said IOS Computer Center was actually in accordance with her wish.

He hoped Safdar Khan would do his best to ensure that the amount allocated for the welfare of minorities were utilized fully and not gone back. He also advised the girls and women present on the occasion to follow Safdar Khan in doing utmost labour and abide by honesty and fairness. He said if new generation abided by truth, honesty and fairness, the social evils like corruption would itself go for ever.

The function was conducted by Prof M Ishtiaque and vote of thanks was made by Prof Afzal Wani. Prominent among those present on the occasion included academics Prof Haseena Hashia and Prof I H Khan, social activist Musharraf Hussain, All India Milli Council office secretary Safi Akhtar, and Milli Ittehad Assistant Editor Bismil Arfi. On the occasion, mementoes and shawls were presented to Safdar H Khan by Dr Manzoor Alam and to Pushpinder Singh by Mohammed Alam, respectively.