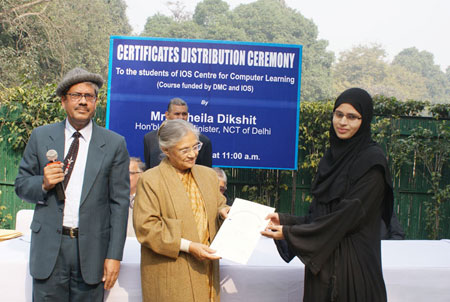 Mrs. Sheila Dikshit, Chief Minister of NCT of Delhi distributing certificates.

New Delhi, January 14, 2011: The Chief Minister of Delhi, Mrs. Sheila Dikshit distributed computer proficiency certificates to 40 Muslim girls here today at a function at her residence.

The girls had got their training at the IOS Centre for Computer Learning. The Centre was opened with the help of Delhi Minorities Commission a year ago.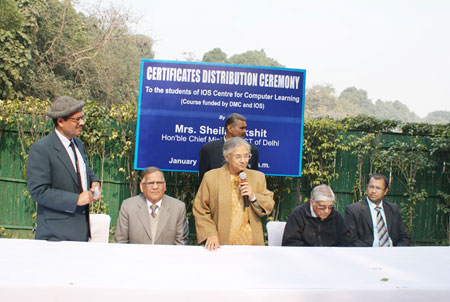 Mrs. Dikshit remarked that the Centre would be of immense help in empowering young Muslim women. She lauded the initiatives taken by the Institute of Objective Studies Chairman, Dr. Mohammad Manzoor Alam and assured IOS functionaries that her government would try to allot some building or land for the Centre.

The IOS Secretary General Prof. Z.M. Khan said the empowerment of women as a whole, and of Muslim women in particular, was the need of the hour.

Prof. M. Ishtiaq compered the programme and Dr. Ausaf Ahmad proposed a vote of thanks.