Lucknow: A two-day (October 17-18) seminar was organised here in the "City of Nabobs" at the historic Darul Uloom Firangi Mahal on Fiqh-al-Aqaliyaat (Shariah in relation to Muslim minorities).

"The correct grasp of problems and their articulation in the light of the Shariah is the essence of fiqh", observed Maulana Sayeedur Rahman Azmi, muhtamim Nadwatul Ulema, Lucknow, in his inaugural address.

Fiqh-al-Aqaliyaat refers to a branch of fiqh that addresses the religious needs of Muslim aqaliyaat (minorities) all over the world. Fiqh (literally, reason) is primarily associated with the development of Islamic jurisprudence.

The seminar, attended by ulama and scholars from Aligarh, Hyderabad, Delhi, Mumbai, Patna, Lucknow and Calicut, was organised by the Institute of Objective Studies (IOS) in collaboration with Islamic Centre, Lucknow. American Islamic scholar Dr. Zainab Alwani was one of the leading lights of the seminar.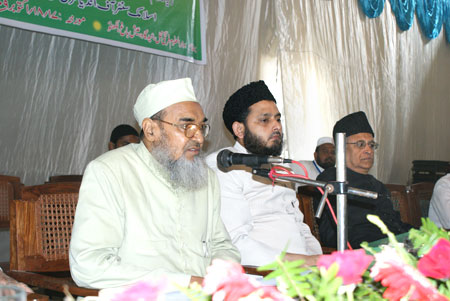 Speaker: Maulana Sayeedur Rahman Azmi
Maulana Azmi said Indian Muslims should interact with the majority and different minorities on the basis of equality, love and sympathy. He also referred to the tireless effort of the IOS in organising meets on Islamic economy, banking and finance as well as ijtihad (logical reasoning to interpret the Shariah in new contexts).

In his address IOS Chairman Dr. Mohammad Manzoor Alam said, "Islam is a religion of dawah wa tabligh (calling people to God and spreading the message) and it requires us to rise above our sectarian prejudices".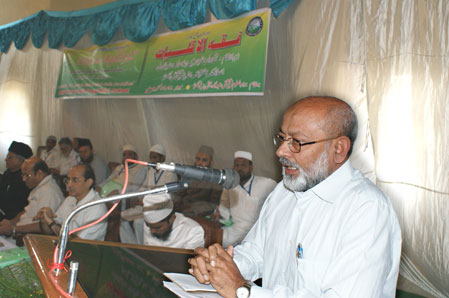 Speaker: Dr Mohammad Manzoor Alam
Dr. Alam said, "the Quran provides solution to every problem, but you have to first come to it to benefit from its guidance."

Prof. Abdur Rahman Momin delivered the keynote address that dealt with the significance of frugality, the issue of women praying in mosques, combining two salaats in extraordinary situations in certain locales, and the timings of prayers and fasts in Muslim minority situations.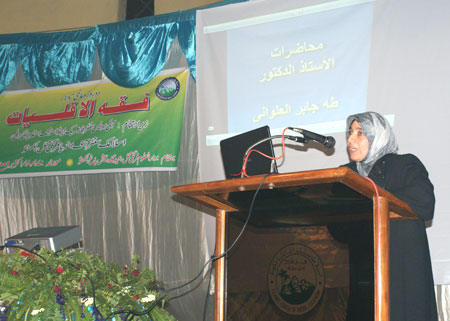 Speaker: Dr Zainab Al Alwani
The inaugural session was marked by the release of two IOS books on the topic: Ilm Maqasid Shariah by Sheikh Nooruddin Alkhadmi and Fiqh-al-Aqaliyaat by Sheikh Jamaluddin Atiyah.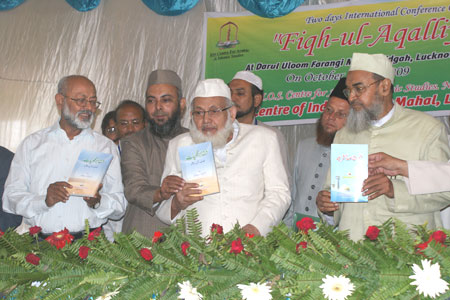 A view of book release

The participants in this session included UP Minorities Commission chairman Mohammad Ali Kazmi, Anis Ansari IAS and Prof. Manzoor Ahmad former V.C. Ambedkar University, Agra. It was also attended by a sizeable number of journalists and intellectuals.



Minorities Commission chairman Mohammad Ali Kazmi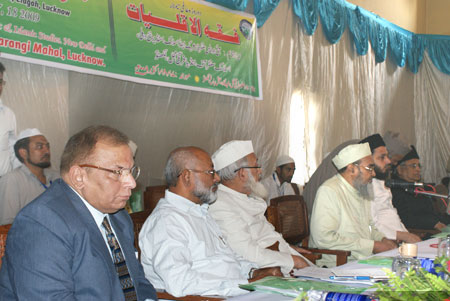 L-R: Mohammad Ali Kazmi, Dr Mohammad Manzoor Alam, Maulana Abul Tayyib Ahmad Miyan Firangi Mahli, Maulana Saeedur Rahman Azmi Nadwi, Maulana Khalid Rasheed Firangi Mahli, Prof. AR Momin
General Secretary of IOS Prof. Z.M. Khan introduced some of the areas of the institute's work to the gathering in the early part of this session. The second session's papers were presented by Prof. Mohsin Usmani, Maulana Arshad Hussein Nadvi and Mufti Imtiaz Ali Qasmi.

An important aspect of the seminar was Islamic scholar Taha Jabir Alwani's power presentation made by his daughter, Dr. Zainab Alwani.

She explained that Dr Taha Jabir Alwani had established the parameters of Fiqh-al-Aqaliyaat on the basis of (1) tauhid [unity of Godhead], (2) tazkia [introspection and self-purification], (3) imran [culture].

On the second day, also presented a comprehensive research paper of her own in which she explained the perspectives, purposes and principles of Fiqh-al-Aqaliyaat.

Former senior economist of Islamic Development Bank (Jeddah) and currently the editor of a scholarly journal, Mutaleaat, Prof. Ausaf Ahmad said in his paper that old Islamic jurisprudential categories like Daar-al-Islam (land of Islam) and Daar-al-Harb (land of war) had become irrelevant in contemporary geopolitical context.

The solution of day-to-day problems is driven by ijtihad (independent reasoning), which is often pragmatic in nature rather than ideological based on nasoos (scripture), he added.

The second day's proceedings were attended by heavy weights like Prof. Afzal Wani, professor of law at Indraprasth University, Delhi, Prof. Faizaan Mustafa V.C. National Law University, Bhubaneshwar, Prof. Mohammad Farman of AMU, Mufti Zahid Ali Khan, Dr Tauquir Alam Falahi, Dr Jawed Ahsan Madni, Maulana Mohammad Shahjahan Nadvi, Dr Sadrul Hasan Nadvi and Mufti Zafar Alam Nadvi, besides other ulama from Nadwatul Ulema, Lucknow, and other intellectuals.

Islamic Shariah (law) is universal, but local conditions do influence the application of the law. Over the centuries the Shariah (based on the Quran, Sunnah and precedence) evolved largely in contexts where Muslims ruled and were in a majority, but less often in contexts where they were in a minority and had very little or no say in matters of state, Dr Mohammad Manzoor Alam later told the media.

Today, the third largest population of Muslims is in India (followed by Indonesia and Pakistan). They are in a minority in India, although they have some say in matters of the democratic state. Statistically, the Muslim minority of the world is larger than the population of several Muslim countries put together, Dr Alam elaborated, explaining the need for developing Fiqh-al-Aqaliyaat.

The need to have a nuanced understanding of fiqh in the Muslim minority context to address the unique problems of Muslim minorities is crucial for the practice of Islam, he pointed out.

This seminar, attended by a large number of ulama, university-educated academics, intellectuals and Islamic jurists, was one of a string of such seminars planned and organised by the Institute of Objective Studies (IOS) in collaboration with major Islamic seminaries and universities.

Dr Alam said that a similar three-day international conference was scheduled for October 26-27-28 at Aligarh Muslim University on the Concept of Psyche in Islam.

Yet another two-day seminar was stated for November 12-13 at the world renowned Darul Uloom Deoband on Aadaab-e-Ikhtilaf (Etiquette of Dissent), he added.

The following resolutions were passed at the end of the seminar:

RESOLUTIONS

• IOS Centre for Arabic and Islamic Studies thanks Maulana Khalid Rashid Firangi Mahli, the Islami Centre, the participants and people of Lucknow.

• IOS Centre particularly thanks the ulama and scholars of Lucknow.

• This meeting requests the IOS Centre to continue organising researches, workshops and seminars, translations and publication of books on Fiqh-al-Aqaliyaat and involve ulema in the work.

• This meting also requests the Islamic Centre and ulama to cooperate with the IOS Centre to continue this noble work.

• This meeting requests IOS Centre, Islamic Centre as well as other research and publication institutions to continue studying and analysing the minority situation worldwide and seek solution to their problems for a peaceful and just order.

• It also asks the Union government to implement Sachar Committee recommendations regarding the welfare of Muslims and bring the Ranganath Mishra Commission recommendations in public domain.

• This meeting asks the Union government to remove impediments in the way of Islamic banking in India and expedite the establishment of Islamic banking without delay.

• The Union government is urged to establish good-quality universities, colleges and other educational institutions as per Sachar Committee recommendations for Muslim girls.

• The meeting requested the government not to interfare in Muslim religious institutions.

(NOTE: The above resolution would be sent to the President and Vice-President, Prime Minister and Finance Minister of India.)