He also said that while some of the essays were laced with the technicalities of the law, there were others that related directly to the concerns of the citizen. According to him, each one of them was enlightening, but of particular interest were the essays pertaining to fundamental rights.

The Vice President said the plurality of Indian society was a ground reality, not a legal creation. Every sixth Indian belonged to a religious minority; the linguistic diversity of the nation could be read on the back of every currency note.

He declared Justice was the first virtue of social institutions and rights secured by justice were not subject to political bargaining or to the calculus of social interests. He also averred that the "diversity of our society was recognised by the Constituent Assembly and specific rights of minorities, in addition to their general rights as citizens, were consciously included as fundamental rights".

According to Hamid Ansari, India had chosen to subscribe to international Covenants and Declarations on minority rights and had thereby undertaken an obligation in international law.

He said a number of questions arose "when we move from legal structure to actual practice". An assessment was easier if the question was deconstructed and subjected to a four-fold analysis to cover matters of identity, security, share in fruits of development, and role in decision-making. "This gap, between commitment and delivery, is recognised by the State; sections of opinion, however, remain in a state of denial," he opined.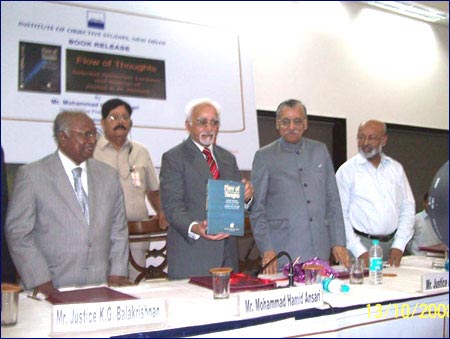 The Vice President concluded that given the size of the minorities, this couldn't but had an adverse impact on the overall progress of the country. The sectional problem thus became a national one. Justice Ahmadi has done a national service by dwelling on them, he asserted.

Justice K G Balakrishnan, Chief Justice of India, said Justice Ahmadi was a jurist touching issues ranging from arbitration to human rights to minority rights.

Soli J Sorabji, former Attorney General of India, said generally judges are a boring lot in social arena but this was not true in the case of Justice Ahmadi. He said at a time when the moral values were on the decline, he stood by it, setting an example for the future generation.

Justice A M Ahmadi said it was unfortunate that there had been a dilution to the rule of law.

IOS Chairman Dr Manzoor Alam said the book contained Justice Ahmadi's speeches, lectures and writings spanning every aspect of the Constitution of India, human rights and minority rights and importance of legal education and its challenges. Prominent among those present on the occasion were former Supreme Court Chief Justice G B Patnaik, Justice Aftab Alam, Iranian Embassy Cultural Secretary Karim Najafi, former Minister of state Salman Khursheed, former Jamia Millia Islamia Vice Chancellor Shahid Mehdi, lawyer Yusuf Hatim Muchchala and Dr Z M Khan, secretary general, IOS. The highlight of the programme was the presence of a delegation of students and teachers of different law faculties in universities from China. The programme was conducted by Dr Ausaf Ahmad, Editor, Urdu quarterly Mutaleat, New Delhi.