Lecture on Indo-Bahrain Relations

February 12, 2013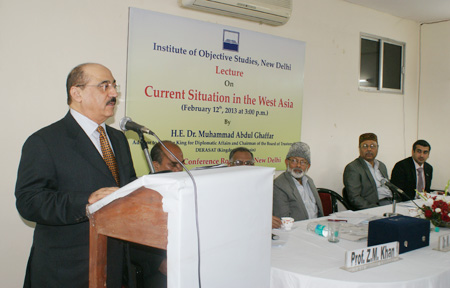 New Delhi, February 12, 2013: Dr. Abdul Gaffar, advisor to King of Bahrain on diplomatic matters, paid a visit to the IOS Headquarters and delivered a lecture on Indo-Bahrain Relations. He put a great deal emphasis on strengthening the close ties that already exist between India and Bahrain. He further said that the bilateral relationship needs to be further increased and deepened on both official as well as public level. He opined that people to people contract was very important between the two nations.

Going back into history, Dr. Gaffar remarked that India and Bahrain are linked together since ancient time. It is said that the relationship between the two nations started before the emergence of Islam and have been quite cordial all through history. He further said that the two countries came closer and closer after India's independence. Today the age-old relationship is deep and multidimensional and yet can be increased further, he said. He especially said that the two countries can further cooperate in the fields of education, economy and culture.

During the course of his lecture Dr. Gaffar also highlighted the importance of Gulf Cooperation Council and remarked that Bahrain was playing a positive and constructive role in providing stability in the region. He criticized the negative role of Iran and Syria in the region and urged India to play its role positively. He opined that a stable Gulf region was in every one's favour. All the concerned require to behave wisely ad responsibly to bring about stability in the region, because unity and stability will bring prosperity and development to one and all, he said. He also said that Islamic banking was flourishing in Bahrain and playing a very important role in its economy.

Speaking on the occasion Dr. M. Manzoor Alam highlighted the important feature's of India's foreign policy which mainly seeks to establish peace and cooperation between nations. "We are passing through a time when the economic power is shifting from America and Europe to Asia where India is emerging as a very strong economic power", opined Dr. Alam. He also said that in such a scenario it would be in the interest of both, India and Bahrain to strengthen their bilateral lies. As a Think Tank the IOS has been playing its role through conferences and suitable literature. Dr. Alam informed that the IOS had planned to organize a conference in Bahrain to discuss such issues but unfortunately it could not materialize. He opined that there was a need to prepare a healthy literature in this regard in which the IOS can play a vital role. He also touched on the delicate issue of Iran and asked all the concerned to understand and present related issues dispassionately so that the ways of cooperation may be found. Dr. Alam said that the Muslim world needed to register rapid developments, including inventions, in the field of science and technology. The Muslim world needs to invest a great deal in science and technology education and can seek and receive a lot of help from India, he said.

Prof. Aftab Kamal Pasha, an expert of Gulf Studies at Jawaharlal Nehru University, New Delhi remarked that ideologues like Dr. Gaffar can play a positive and vital role in strengthening the bilateral relations of India and Bahrain. He said that Dr. Gaffar received his higher education at Pune University and has been visiting India frequently because of which he is well are of India's culture, history, economy and political realities. He is, therefore, wellplaced to play a role, said Dr. Pasha.

Prof. Z.M. Khan introduced the IOS and Mr. Mushtaq Ahmad Advocate conducted the programme.