IOS Lecture by Justice Ahmadi on Growing Impunity and Declining Rule of Law

On December 9, 2012 at IOS Conference Hall, New Delhi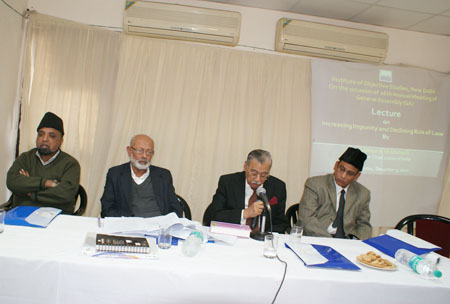 New Delhi, Dec. 9, 2012: "The rule of law has an inverse relationship with the public's sense of impunity," former Chief Justice of India, Justice A.M. Ahmadi, said here today at a special lecture at the IOS on the occasion of the 26th general assembly meeting of the Institute of Objective Studies.

The title of the lecture was "Increasing Impunity and Declining Rule of Law." Fascist and communal organisations, whose functionaries spread hatred through their speeches and incite people to violence for political ends, are never bothered about any penal action, he said.

Giving examples of the current politics of lawlessness, he pointed out the insistence of Shiv Sena activists' hooliganism regarding a proposed memorial for Bal Thackrey in Mumbai's Shivaji Park and the illegal construction of a Hindu temple adjacent to the Charminar in Hyderabad as expressions of majoritarian impunity.
Such blatant impunity was witnessed during the violent Ayodhya campaign that culminated in the demolition of the Babri Masjid and murder of thousands of Muslims all over India.

He regretted that the huge spate of arrests of innocent Muslim youth on concocted charges had created an environment of fear. This is being carried to the ridiculous length of declaration of the name of the ("Muslim") organisation to which the alleged offenders belong within hours of an act of crime, while the fact is that the police are not aware of any such organisation, or its plans, even till it happens.

He talked about the arrests of a huge number of Muslim youth on charges of blasts in Makkah Masjid (Hyderabad), Malegaon, Samjhauta Express, Ajmer and Delhi, while the fact was that these terrorist acts were committed by Hindus. He also referred to the highly publicised arrest of journalist Syed Mohammad Ahmad Kazmi on shaky assumptions.

He wondered what would happen to people who were falsely charged with terrorism, but were honourably acquitted by courts. Who will give back their lost moments? Who will restore their careers, their honour? Who will rehabilitate them in society as honourable citizens? he asked.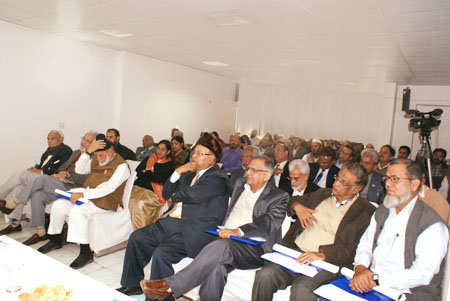 He showed concern over the increasing communal tension across the country. He referred to anti-Muslim communal violence in Faizabad, Kosikalan, Pratapgarh and Ghaziabad in Uttar Pradesh and Akot in Maharashtra causing great loss of life, limb and property.

He also talked about widespread anti-Muslim violence in Assam, where the victims had left refugee camps, yet they had not reached the areas where they belonged. Nor was there any serious attempt afoot to rehabilitate them.

He also referred to the UP Chief Minister Akhilesh Yadav, who said that the riots had been organised to defame him. "That shows the perpetrators of the violence were sure that the police would not act against them."

This sense of impunity encouraged them to act as they willed, Justice Ahmadi said.

In his concluding remarks, he said that the Centre and state governments should act firmly against organisations that hatched communal conspiracies strengthen law and order and initiate penal measures against police chiefs under whose jurisdiction such violence was allowed to happen. Besides, the kin of people killed in riots and false "encounters" with police should get a compensation of Rs. 25 lakh each.

The vice-chancellor of NALSAR, Hyderabad, Prof. Faizan Mustafa said that in such situation the victims should be familiarised with law and provided legal assistance. He said IOS should step in to play this role.

A question-answer session followed the lecture in which delegates to IOS General Assembly from different states participated. Several lawyers, academics and intellectuals from the national capital participated. The auditorium was filled with young men and women, which showed their interest in the subject.

Prof. Ishtiyaque Danish proposed a vote of thanks.