Prof. Momin was delivering his keynote address at a two-day seminar on "The Challenges of Pluralism and the Middle Way of Islam" at New College. He said "Islam is accommodative of pluralism" in its laws and social mores as demonstrated by the historical record of Ottoman, Andalusia (Arab Spain) and medieval India.

Quoting from the Quran Prof. Momin emphasised that Islam recognised and accommodated ethnic, religious and cultural diversity. He juxtaposed it with the observation that in India respect for and accommodation of diversity was reflected not only in the country's religious and ethnic landscape but also within the fold of Hinduism.

Quoting from the Rig Veda, he said "The Truth is One, but the sages call It by different Names". That stance had been validated by the inclusion of more than 25 words of Dravidian origin in the Rig Veda and many more in later Vedas, he added. In this regard, China is the binary opposite of India as its ethos is mono-cultural, according to Prof. Momin.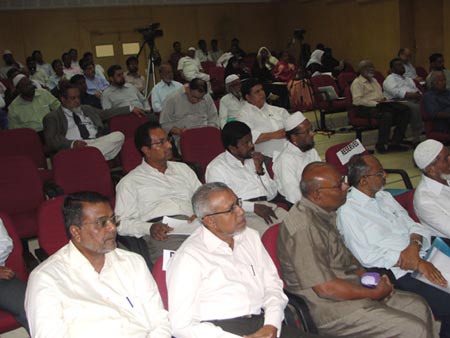 A view of audience


Prof. Momin also pointed towards the contribution of Indian Muslims to the advancement of the multi-cultural ethos in arts and letters, culture and architecture. As the world was getting increasingly diverse and hybridity rather than uniformity was the central theme of life, accommodation and celebration of diversity would be the right choice.

Earlier, in his welcome address Dr. Karamathullah Bahmani, coordinator of (IOS) Chennai chapter, while welcoming the audience and guests said that by now IOS was known worldwide and enjoyed an affiliate status with the United Nations (Social Roster) largely because of the tireless efforts of its chairman, Dr. Mohammad Manzoor Alam.

Mr. Habibullah Badsha, former advocate general of Tamil Nadu asserted, "pluralism is inbuilt in Islam, and its beauty lies in resilience of its message". He advised Muslims not to talk about backwardness all the time. "Hold your head high and forge ahead", he exhorted Muslims, especially the youth.

The seminar, which was jointly organised by the Institute of Objective Studies, New Delhi and New College, Chennai, began with the recitation of Quran by Mr. Abdur Raheem Patel.

Prof. Z M Khan, secretary general IOS, presented highlights of 24 years of its research and publication work, as well as of seminars and symposia organised by it. He said so far IOS had published over 200 titles, has been offering scholarships and publishing several journals, besides running different websites.

IOS had also started several centres like IOS Centre for Applied Social Research, IOS Centre for Computer Education and IOS Multimedia Centre. IOS would observe its Silver Jubilee in the 25th year of its existence in 2011, he announced.

In his presidential address, Dr. Mohammad Manzoor Alam, chairman of IOS remarked that human dignity lay in the freedom of choice, which was possible only when a multiplicity of options was available. "Islam offers you the choice to select or reject", he said pointing towards Islam's acceptance and celebration of diversity.

He said that of late trends were marked which de-emphasised the unity of Godhead, unity of knowledge and unity of Creation in all its diversity. IOS work always focused on that unity in all its research, symposia and seminars.

IOS organised over the last few months seminars from Kashmir to Kerala, UP and Bihar. He made an appeal to participants to access different websites run by IOS and its affiliates to be able to interact with it.

The programme was conducted by Capt. Zahid Hussain, who heads the NCC at the college and teaches in economics department. Capt. Hussain also proposed a vote of thanks.


DAY-II
The second day's proceedings began with a recitation from the holy Quran by Capt. Zahid Hussain. The session chairperson Prof. Z.M. Khan's introductory remarks followed.

Prof. Khan observed in his introductory remarks that pluralism was "not merely a concept from political theory, but an idea and a practice with extremely wide ramifications". Human rights, civil rights, minority rights and a plethora of allied areas were in its domain, touched upon and elaborated in documents like the Indian Constitution and UN Conventions.

"And yet, minorities continue to suffer worldwide", he pointed out. Driven by good intentions, pluralism and its practice were caught in all manner of paradoxes and contradictions. To overcome these limitations minorities themselves had to take the initiative "and look hard to find out precisely what is wrong and where".

Prof. Khan continued, "We can be sure of certain things: institutions have to built and protected". He explained that institutions functioned in a certain social, economic, moral and political environment. That environment subtly and deeply influenced the functioning of these institutions. Hence, the environment, too, had to be kept in mind and to be corrected for the entire edifice to be efficient and meaningful.

Prof. Khan quoted an insightful remark of former Chief Justice of India A.M. Ahmadi to clarify the point. In one of his addresses Justice Ahmadi had said that most of the time Indian judiciary worked competently, independently and impartially, but on rarest of rare occasions its competence, independence and impartiality were compromised. That was because the people running the institution of judiciary were only human and it was as natural for them to be influenced by the prevailing environment as for anyone else. "That's why we have to build institutions and to be mindful of the environment in which they function", he concluded.

Prof. M. Abdul Khader stressed the need for community-based initiatives for empowerment of Muslims. In his scheme of things the mosque stood at the centre of primary educational activity. He pleaded for a primary school and a library to be attached to every mosque and for utilising the potentials of the imam and the mosque management committee. He talked about the Kerala model patterned on these lines that had met with extraordinary success.

Prof. A.M. Abdul Kalam argued for a return to the pristine values of early Islam to meet today's challenges. Early Islam had a provision for accommodating religious, cultural and ethnic diversity.

Mr S.H. Mahboob Ali elaborated upon the same theme saying the Charter of Medina, a vital document of the first Islamic state that was headed by the prophet (PBUH) himself, recognised and protected the rights of minorities. This state recognised the weekly holidays of Jews (Saturday) and Christians (Sunday) along with Muslims (Friday). It allowed non-Muslims to practise their faith freely with full protection of law. This state, which also signed treaties with non-Muslim states, was a prototype of the pluralist state of today, he asserted.

In their jointly written paper Dr S. Karamatullah Basha (of Economics Deptt. New College, Chennai) and Prof. Captain Zahid Hussain (also of Economics Deptt., New College) argued that traders and sufis spread the message of Islam through love and understanding more than any warrior or conqueror did. The latter category came in the second wave, mainly of Turks.

The authors pointed out that Muslim poets, writers and artistes were part of the project of Indian pluralism that built a multi-cultural ethos. However, pluralism sustained a serious setback because of communal politics and organised mass violence against minorities.

They pleaded for a range of remedial measures – legal, economic, political and social–to set things right and bring pluralism back on the rails. The paper was presented by Dr Basha.

Prof. M. Fakhir Ismail said in his paper that Islam, being "a complete way of life", accommodated pluralism, and all that Muslims had to do was adhere firmly to it.


Valedictory Session


This session was chaired by Prof. A.R. Momin and the valedictory speech was delivered by IOS chairman Dr Mohammad Manzoor Alam. Dr Alam put the concept of pluralism in the context of a fast-globalising world, a world characterised by the emergence of new forms of imperialism.

"The global hegemon is out to turn our democratic republic into a banana republic", he remarked pointing towards new stresses on the country's sovereign authority.

The plural heritage of the country was under tremendous pressure from different sides, external as well as internal. Also, there was a growing tendency to understate or ignore the contribution of Muslims to the mosaic of India's composite culture.

He announced an IOS project to study a large body of archival material to properly evaluate the contribution of Muslims to India's independence. "This large body of archival material has not been studied so far", he said.

Dr Alam said 2011 would be the Silver Jubilee Year of IOS, which would be marked by year-round celebrations, a large output of printed work as well as internet content, and a plethora of important seminars and symposia all over the country.

In his presidential address the chairman of the session and important member of IOS fraternity, Prof. A.R. Momin, elaborated on the points made by Dr Alam.

The second day's programme was interspersed with lively question-answer sessions in which the audience interacted with speakers. Capt. Zahid Hussain proposed a vote of thanks.