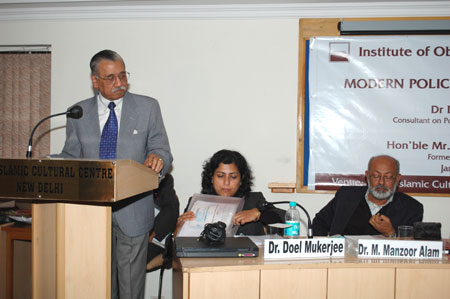 This has led the Supreme Court to take the initiative for effecting police reforms, Dr. Doel Mukherjee, a UN Consultant on this issue, said here today at the India Islamic Cultural Centre. She was speaking on "Modern Police for Modern India". The event was organized by the Institute of Objective Studies (IOS).

Police laws in India are markedly different from one state to another. The Union Territories present still another picture. Some of the states are functioning on laws made by the British soon after the 1857 revolution.

The Supreme Court of India in a judgment delivered on January 11, 2007 said that police reforms must begin immediately. On May 16, 2008 it ordered the constitution of a three- member monitoring committee to monitor compliance. The first four states to be analyzed were Uttar Pradesh, Madya Pradesh, Andhra Pradesh and Orissa. The next meeting will be in February 2009.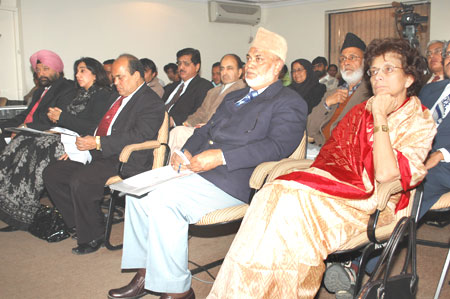 Meanwhile, since the Supreme Court judgment the following 10 states have passed new Police Acts: Assam, Bihar, Chhattisgarh, Himachal Pradesh, Haryana, Kerala, Punjab, Rajasthan, Tripura and Uttrakhand. In Tamil Nadu, Goa, Gujarat the bills are yet to enacted as laws.

Tamil Nadu, Karnataka, Delhi and Mumbai are governed by old police acts dating from 1859 to 1978. The remaining 13 states and six Union Territories are still governed by the Police Act of 1861. It is obvious that this state of affairs is not conducive to good policing and efficient delivery of justice.

The Supreme Court has passed a seven- point directive to bring the policing system up to current standards.

The colloquium was presided by former Chief Justice of India Justice A. M. Ahmadi. The IOS chairman Dr. M. Manzoor Alam stressed the need for accelerating police reforms in the interest of a more peaceful and just social order. Experts on police reforms, jurists, intellectuals and media persons participated in the interaction that followed.