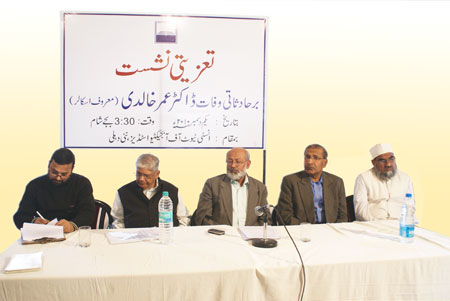 R-L: Maulana Ataur Rahman Qasmi, Dr. Abu Saleh Sharif, Dr. M. Manzoor Alam, Dr. Ausaf Ahmad and Dr. Ghitreef Shahbaz Nadwi

A meeting was held here today to mourn Dr. Omar Khalidi, a researcher at the MIT, who suddenly died in the US on Nov 29, 2010. Dr. Khalidi was 57 at the time of his death. Drs. Ausaf Ahmad, Sajjad Shahid, Maulana Ataur Rehman Qasmi, Saleh Sharif and AU Asif paid rich and glowing tributes to the departed soul. Describing him as a rare intellectual who devoted his life to the analysis of Indian social issues, Dr. Khalidi had many more years of productive research, had he lived longer.

The meeting was chaired by Dr. M. Manzoor Alam who declared that the IOS, would publish the last work of Dr. Khalidi in the form of a book for which the negotiations were on before his untimely death. The meeting ended with a prayer led by Mufti Nadirul Qasmi.