Discussion on Right of Children to Free and Compulsory Education Act, 2009
May 05, 2012
IOS Committee Room
Organised by
Institute of Objective Studies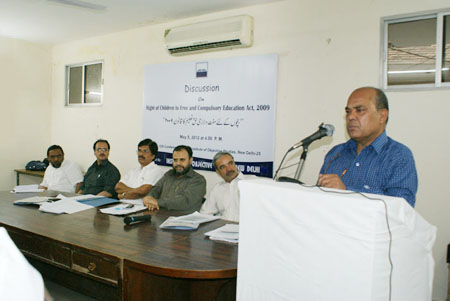 L-R: Dr. S.Q.R. Ilyas, Editor, Afkar-e-Milli; Mr. Tarique Siddiqui, Advocate; Mr. Abdul Khalique, Former Civil Servant; Prof. M. Afzal Wani, Faculty of Law, GGS IP University, Delhi; Mr. Salar M. Khan, Advocate
Speaker: Mr. Mushtaq Ahmad, Advocate, Supreme Court of India
The Institute of Objective Studies organized a discussion on May 5, 2012 in the premises of its Headquarters at Delhi on Right to Education Act. Speaking on the topic, Mr. Abdul Khaliq, Secretary General, Jana Shakti Party, said that RTE Act may cause more educational backwardness to the already backward Muslim community. Social and Rural Research Institute has recently conducted a survey which found that 9.9 percent children in the country still do not go to any school. Out of these not school going children 13.05 are Muslims. He expressed the fear that due to RTE Act this gap may further increase. He further argued that there are one lakh unrecognized schools in the country. It is estimated that such schools in Delhi are between 2500 and 10000. According to the RTE Act all these schools have to fulfil some conditions and get recognition from the government within three years else they have to close their shop. Perhaps most of these schools will not be in a position to meet the government criteria, and their closure will adversely affect primary education in the country. He also said in Delhi's Jamia Nagar area alone there are 30 unrecognized schools and perhaps none of them has the certificate of being a minority institution. Therefore all these unrecognized schools are in danger of being closed. Jamia Nagar area has very few government primary schools and if 30 private unrecognized schools are closed, the Muslim children will have no schools where they will enroll for education Mr Khaliq further said that government primary schools are in bad shape. Over 59% do not have drinking water and 89% have no toilets. All these factors will surely conspire to decrease literacy rate among Muslims, claimed Mr Khaliq.

Mr Abdul Khaliq said that India has the greatest number of illiterate population in the world. There are at least 35 million or at most 60 million people in the age group of 6-14 who have never been to a school. The literacy rate in India rose to 75% in 2011 which is far below the world literacy rate of 84%. Another alarming fact is that primary education is provided in the country by large numbers of unqualified teachers. Many experts believe that unqualified teachers are causing harm to the country's literacy movement, said Mr Khaliq.

Advocate Salar Mohd. Khan said that RTE Act has suitably been amended on April 24, 2012 to exclude Madrasas, Vedic Pathshalas and other such schools providing religious education. But schools providing formal education have to get recognized. He said that right to education was first accepted as fundamental in 1948 and in 2009 free and compulsory education to children has been declared the fundamental right of every child.

Dr. Sayyid Qasim Rasool Ilyas, Secretary General, Welfare Party of India, and member of Jamat-e-Islami's central advisory committee said that the purpose of RTE Act is good but this Act alone cannot fulfil the purpose for which it has been enacted. There will be only two categories of schools after this Act, the government and the private schools, and only these will benefit from it. A big problem is that criteria set out in the Act will apply only to the private schools and not to the low standard government schools. The possibility is that the culture of private school will flourish making primary education very costly in the country. This culture will adversely affect the Muslim minority and other weaker sections. He said that the government has decided to pay the fee of 25% students studying in private schools under compulsory reserved category which is insufficient because the fee is a small component of the overall charges of private schools. Minorities and weaker sections can hardly benefit from the government scheme, said Dr. Ilyas.

The IOS Chairman, Dr. Mohammad Manzoor Alam opined that due to amendment in RTE Act, 2009, the religious schools have been excluded from its purview and they do not face the danger of closure now. But there are still provisions in this Act which private schools being run in Muslim localities will find difficult to fulfil. As a result the education of Muslim children is bound to suffer. We have to think from this angle also, he said. He further said that in Delhi we all know how difficult it is to provide quality education to those Muslim children whose parents live in Jamia Nagar and other Muslimdominated localities. Good private schools in nearby areas have some high conditions which most Muslim children are unable to fulfil. The scenario therefore is disturbing for primary education in the Muslim community. Mere law-making for free and compulsory education for children will not work. There are other steps that the government has to take for promoting primary education, he opined.

Mr. Mushtaq Ahmad, advocate, Mr. Ilyas Malik, Mr. Ashfaq Ahmad, Tariq Siddiqi, advocate and Hakeem Zillurrahman also expressed their views on the subject.