IOS Lecture on Sentencing Policy

January 14, 2013 at IOS Meeting Room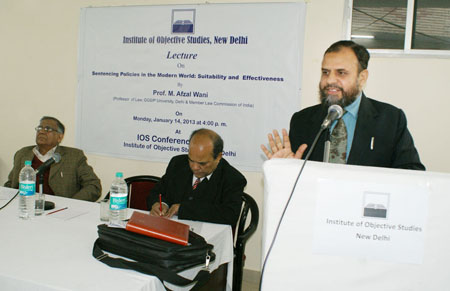 New Delhi, January 14, 2013: Sentencing policies adopted by Judges generally reflect the historical, social, economic and psychological melieu of the societies in which they operate, Prof. M. Afzal Wani, professor of law at GGSIP University (Delhi) and member Law Commission of India, said here today.
He was delivering a lecture on "Sentencing Policies in the Modern World: Suitability and Effectiveness" at the conference room of Institute of Objective Studies. The programme began with a recitation from the holy Quran by Maulana Khalid Nadwi.
He put the issue in the philosophical context of crime and punishment and how different societies had been trying to cope with crime and its consequences on a legal plane.
Prof. Wani traced the rise in crime rates since the time of rise of capitalism and Industrial Revolution in Europe that spread to other parts of the world with colonial expansion. The youth began to be motivated by monetary gain alone (by fair means or foul) and jettisoned moral restraint in pursuit of money and the transient pleasures it could buy.
He put the present wave of crime in Indian cities in the context of crass materialism. He suggested looking into the Quran for a moral anchor and the creation of a just society.
In his comments Prof. Iqbal Hussein said sentencing policies reflected the general moral climate of a society. In his presidential remarks, IOS General Secretary Prof. Z.M. Khan said sentencing policies were founded on the ethos of a society.
The programme was conducted by Mushtaq Ahmad, advocate on record, the Supreme Court of India.