It is our duty to protect the Constitution: Dr M. Manzoor Alam

November 29, 2014 at Trivandrum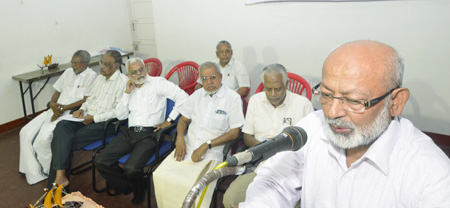 Trivandrum: The Indian Constitution in its Preamble has made it very clear that there is no distinction among the citizens on the basis of religion, language or region but the Sangh Parivar is trying to undermine these basic precepts since BJP came to power, said Dr. M. Manzoor Alam, the Chairman of IOS. He was addressing a largely attended meeting organized in his honour on during November 29-30 by the Muslim Association, a prominent educational and cultural NGO in the state capital. It is not surprising as the people in power never took part in the country's struggle for independence. They want to restore the Varnashrama Dharma but in the process are working against Article 25 of the Constitution, Dr Alam continued.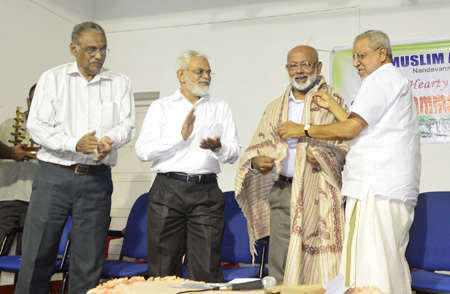 Mr. Rajnath Singh, the Union Home Minister says that he and Mr. Narendra Modi come from the same organisation and both closely associate with Zionists as both believe in racial discrimination. RSS has no faith in human brotherhood or equality. The country is slowly moving from democracy to tyranny, but we have the Constitution in our defence, he said. It is our duty to protect the Preamble, articles 25 and 26 of the Constitution. He reminded the audience that Kerala was not an island and would not be able to escape the fatal political changes the Sangh Parivar wanted to introduce.

"Muslims, unfortunately, are groping in the dark. They have neither a leader to lead them to safety nor ladder to climb out of this predicament. But they are a community with inherent energy and dynamism drawn from the holy Quran and Hadith. It is their religious duty to fight slavery and exploitation" Dr. Alam concluded.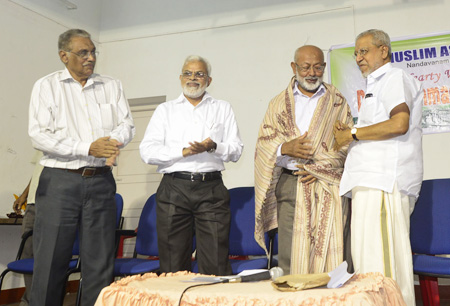 Adv. A Sharafudeen, the Secretary of the Association, welcomed the Chairman IOS and other guests. Haji K M Salih, the President, chaired the function.

E Abubacker, former secretary of All India Milli Council, Prof P Koya, member of the Governing Board of the institute, M A Hameed, Dr O Abdul Rahman, Dr Ahamed Pillai and Ibrahim Moulavi also spoke.

The next day the Chairman had discussions with prominent Government officials, journalists and professionals. He also attended a reception organised by Trivandrum Educational and Service Trust, another development organisation working in the city.