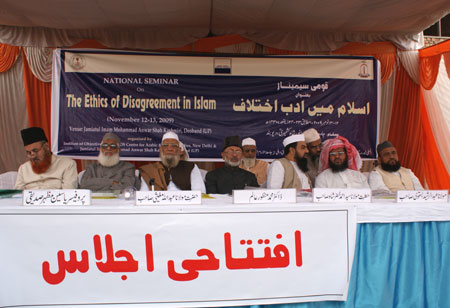 L-R: Maulana Abdul Wahab Khilji, Prof Yasin Mazhar Siddiqui, Maulana Abdullah Mughaisi, Dr Mohammad Manzoor Alam, Maulana Ahmad Shah Khizr Masoodi, Maulana Abdul Rasheed Bastawi


In his inaugural address Prof. Saud Alam Qasmi said "the doctrinal differences between Muslims is not on the fundamentals, but on secondary and less important issues". He advised Muslims to forge unity on the basis of the fundamentals and develop a common stand on the basis of mutual consultations.

The two-day seminar, beginning on November 12, was attended by the luminaries of the world-renowned Darul Uloom Deoband, including Maulana Nematullah Aazmi, Mufti Sayeed Ahmad Palanpuri, Sheikh-al-Hadith Darul Uloom Deoband, and Maulana Reyasat Ali Bijnori.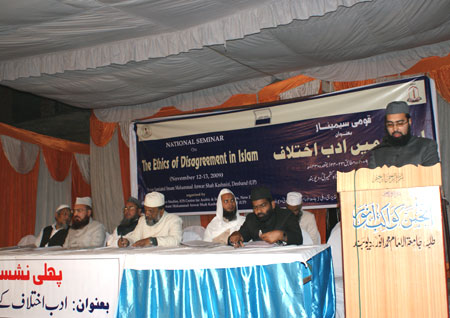 Photo: Business Session-I
Islamic scholars from India's centres of learning like Hyderabad, Delhi and Lucknow also addressed the seminar. The following representatives of India's Islamic oerganisation participated in the seminar: Maulana Mohammad Rafiq Qasmi, Secretary Jamaat-e-Islami Ahl-e-Hadith Hind and Maulana Muhammad Abdullah Mughaisi, President All India Milli Council.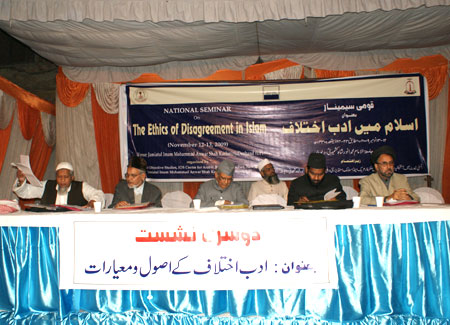 Photo: Business Session-II
Mufti Sayeed Ahmad Palanpuri pointed out the difference of opinion did not mean opposition in fiqh.

In his brief address Dr Mohammad Manzoor Alam explained the objectives of the seminar. Nearly all speakers emphasised the point in their own way that maslak (school of thought) should not replace deen (religion) and difference of opinion should not lead to mutual takfir (repudiation).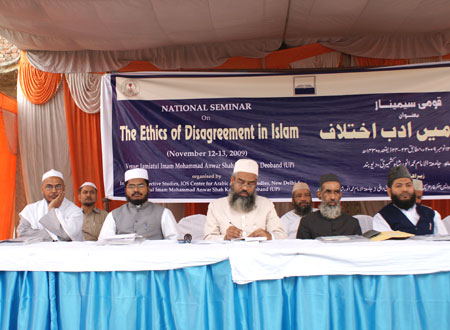 Photo: Business Session-III
Everybody at the seminar recognised that the "Ummah has an abundance of different perspectives, which cannot be wished away". The need of the hour, they pointed out, was to initiate dialogue between different masalik and points of view.

The welcome address was delivered by the rector of Jamia Imam Mohammad Anwar Shah Kashmiri, Syed Ahmad Khizr Shah, and a comprehensive introduction of the IOS was made by Dr Ghitrif Shabaaz Nadvi.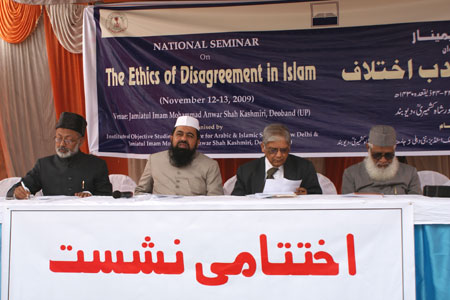 L-R: Dr Mohammad Manzoor Alam, Hazrat Maulana Ahmad Shah Khizr Masoodi, Dr Ausaf Ahmad, Prof Yasin Mazhar Siddiqui
Among the prominent scholars who presented their papers were Prof. Ali Mohammad Naqvi of Department of Islamic Theology (Shi'a) Aligarh Muslim University, Mufti Mohammad Zafar Alam Nadvi, Dr Obaidullah Fahad Falahi and Maulana Nadeemul Wajdi.




A view of audiance
The valedictory session was attended, among others, by Dr Fahim Akhtar Nadvi, Mufti Majdul Quddus Khabib Rumi and Prof. Yasin Mazhar Siddiqui. Prof. Siddiqui presided over the last session and Prof. Ausaf Ahmad read out the following proposals and resolutions:


1. The two-day seminar has reached the conclusion that differences among Islamic scholars on different aspects of principles of Islam are possible. According to it, these differences are not related to its basics and fundamentals and only exist in opinions of different schools of thought and other issues like schools of thought, mystic thoughts and practices, and trivia. In the view of the seminar, the realization and identification of the existence of these differences in opinions is a big step in the way of creating mutual understanding and harmony.

2. The seminar lauded the efforts made by the IOS, New Delhi and Jamia Imam Anwer Deoband in connection with its preparation. It hoped that such efforts would also be made by other Islamic educational and research institutions.

3. The seminar expected that a congenial atmosphere to promote the culture of mutual talks and dialogue would be created in the educational institutions of the Indian Muslims.

4. The seminar appealed to different schools of thoughts and groups of Indian Muslim society to initiate a dialogue to remove their differences based on the real Islamic teachings and concepts. However, even after this effort if they feel that there still remain some real and permanent differences, they should strive to tolerate and live with these differences.

5. The seminar hoped that such other meetings would be helpful in removing the differences and encouraging unity among the Indian Muslims.