Lectures on
'The Impacts of Interfaith Movement on Peace, Justice and Sustainability', and 'An Islamic Approach to Terrorism'
by
IOS Aligarh Chapter and Dept. of Sunni Theology, AMU, Aligarh

December 2, 2014 at Lounge of Faculty of Arts, AMU, Aligarh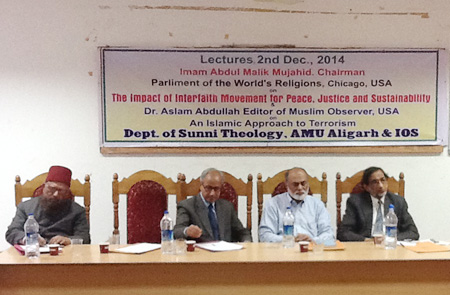 L-R: Dr. Mufti Zahid Ali Khan, Chairman of Sunni Theology; Prof. Salahuddin Qureshi; Dr. Imam Abdul Malik Mujahid, Chairman, Parliament of World's Religions, Chicago, USA; Prof. Mohammad Muqim, Coordinator, IOS Aligarh Chapter
Two lectures were organised by the Institute of Objective Studies, Aligarh Chapter and the Department of Sunni Theology, Aligarh Muslim University on December 2, 2014 at 11:00 am in the Lounge of Faculty of Arts, AMU, Aligarh.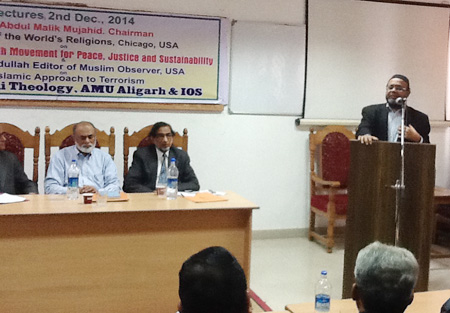 Speaker: Dr. Aslam Abdullah, Editor, Muslim Observer, USA
The first lecture was delivered by Imam Abdul Malik Mujahid, presently the Chairman of the Council of Parliament of World's Religions, Chicago, USA on 'The Impacts of Interfaith Movement on Peace, Justice and Sustainability ' and the second one was delivered by Dr. Aslam Abdullah, the editor of Muslim Observer, USA on 'An Islamic Approach to Terrorism'.

A view of audience
The programme was conducted by Prof. Mohammad Muqim, coordinator of IOS Aligarh Chapter. A few verses from the holy Quran were recited by Mr. Abdus Salam. The programme was presided over by Prof. Salahuddin Qureshi. Dr. Mufti Zahid Ali Khan, Chairman of Sunni Theology, extended vote of thanks.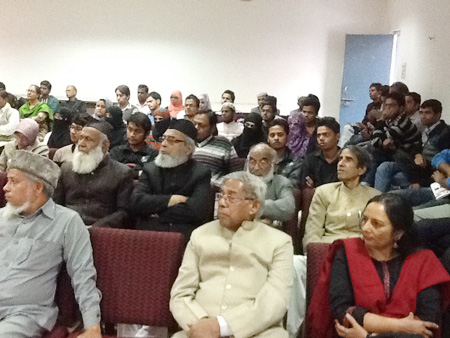 An other view of audience