IOS Computer Learning Centre is a phenomenal institute: Safdar H. Khan

January 11, 2014 at IOS Conference Hall, New Delhi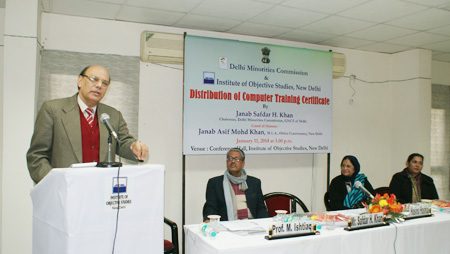 New Delhi, 11th January: A programme was conducted at IOS building, 162, Jamia Nagar, to dispense the passing certificate to the students who passed their six-month diploma course in computer Application and Multilingual DTP, which is running with the financial support of Delhi Minority commission. The certificates were distributed by Safdar H Khan, chairman of Delhi Minorities Commission.

He distributed certificates to the 29 students who had completed their courses. He presented mementos to Shumayela, Tasmia and Saba Parveen, the students who secured first, second and third rank respectively. He put his view that the course would be a milestone in the successful careers of the students. Mr. Khan also reviewed the activities of the Computer Centre and said it peerless institute' in Delhi. He also praised IOS for its prodigious achievements.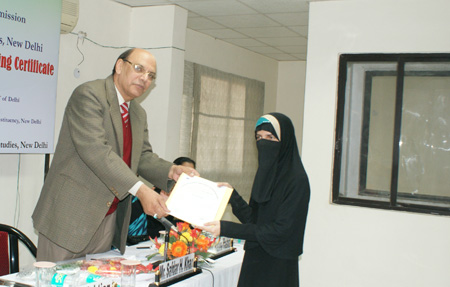 The chairman of Delhi Minority commission mentioned in his oration that two booklets had been issued to disseminate the required information to the minorities. The first booklet contains the various schemes of the government, including scholarship, and the second booklet is on forms and other details. He also said that permission has been sought to build an ITI building in Nand Nagri area. He also informed that the process was on for another ITI in Jamia Nagar.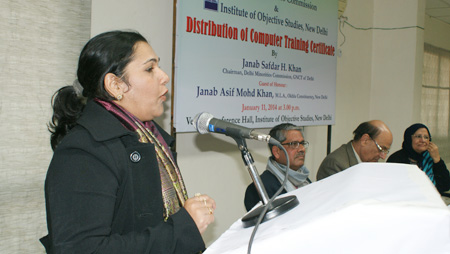 It is also significant to mention that it was the fourth session of the programme, as the Centre had already issued certificates for its three erstwhile regular sessions, i.e.52, 30 and 39 certificates respectively. Ms. Farhat Azad, a scientist at Central Road Research Institute, presented an amount of Rs.5000 to the first rank holder.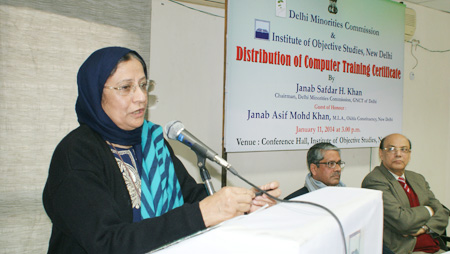 Professor Haseena Hashia (Department of Geography, Jamia Millia Islamia) said that it could have been possible only because of the Delhi Minorities Commission. She mentioned that it was an affirmative step towards the empowerment of students. She showed her satisfaction at the prevailing trend of interest by Muslim girls students in science and technology as they were taking impressive strides towards the success in society. She said that we had been at top position in science and technology thousand years ago and the same was required today. She said that if this generation kept on moving successfully onwards it would lay the path for its posterity.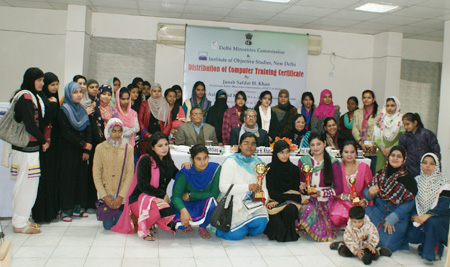 Ibrahim Alam, Director of the Computer Learning Centre, welcomed Mr. Safdar H. Khan by presenting him with a bouquet. Prof. M. Ishtiyaque conducted the proceeding of the programme. The other notable participants were Prof. Ishtiyaque Danish, Musharraf Hussain, Iqbal Hussain, Hamid Ali Khan and women and girl students of the Centre.