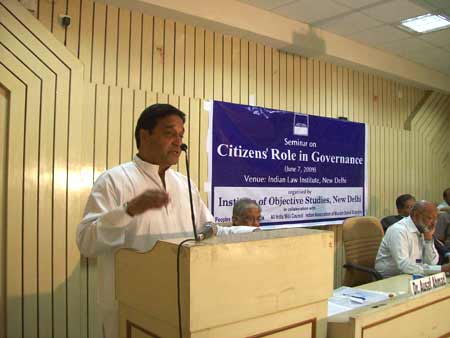 Speaker: Dr Kumar Rajiv
Dr Kumar Rajiv, a teacher of business studies at Jodhpur University, said that the spread of democracy was hindered by a lack of internal democracy within parties. "The fact that too many families in India have been involved in politics for generations and a grandfather MP leaves his seat for his son to be an MP, whose son, the first one's grandson, comes in to fill his father's place limits the access of others seriously", he said.

Another restrictive factor for the growth of democracy is lack of Citizens' right to recall MLAs and MPs who do not function well.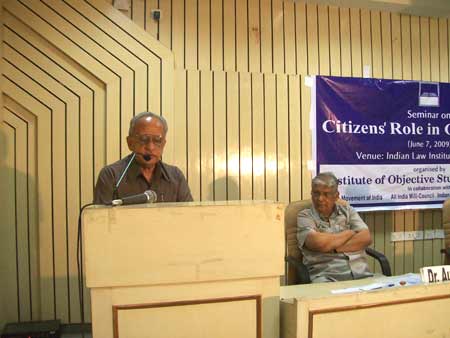 Speaker: Prof (Dr) Tahir Mahmood
Dr Tahir Mahmood, member of Law Commission of India and former chairman National Commission for Minorities, said in his erudite keynote address that in the entire SAARC region India is the only country which is truely secular. That provides a remarkably effective system for treating all citizens as equal as the state has no religion of its own.

Dr Mahmood was of the opinion that despite official corruption and other ills afflicting democracy it was spreading and deepening. Among other impulses for such growth and deepening of democracy he listed the emergence of information and communication technology that enables people to network and communicate with each other as well as with government agencies. Government on its parts is taking resort to e-governance with satisfactory results.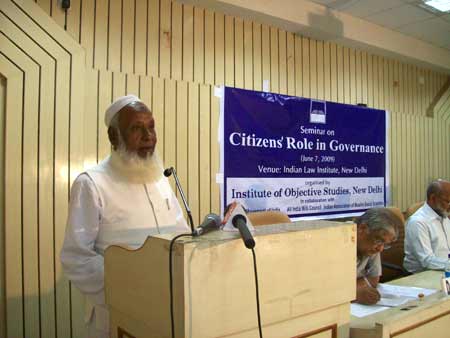 Speaker: Maulana Asrarul Haque Qasmi
Maulana Asrarul Haque Qasmi, MP, argued for pluralist, secular, inclusive governance in the interest of the larger masses. For that people would have to show active interest in how their government and bureaucracy function.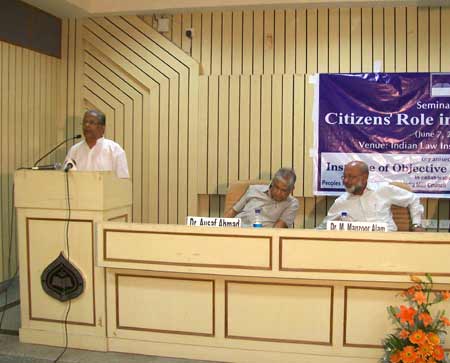 Speaker: Mr ET Bashir
Mr ET Bashir, MP and former education minister of Kerala, said that a sound constitutional basis had led to the spread of democracy from the federal level to the panchayati raj level. He said more and more instruments of people's empowerment were in place today, like Right to Information Act (RTI) that promote openness and good governance.

However, low representation of the weaker sections in assemblies and parliament as well as in government and private jobs remained a fact of life. He said education would improve the functioning of democracy and more people would benefit from it.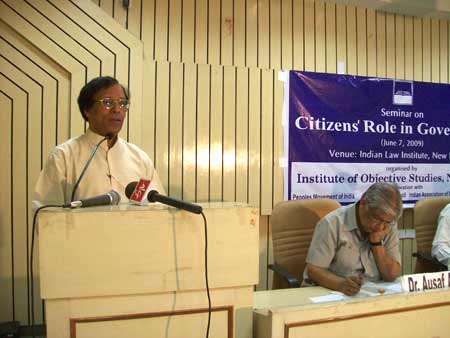 Speaker: Dr MD Thomas
Dr MD Thomas, National Director Commission for Religious Harmony, observed that citizen's participation in governance involved a fine balance between rights and duties. For this the "centrality of the Constitution" had to be maintained in conduct of public affairs, because "the Constitution is the sacred book so far as civic life is concerned".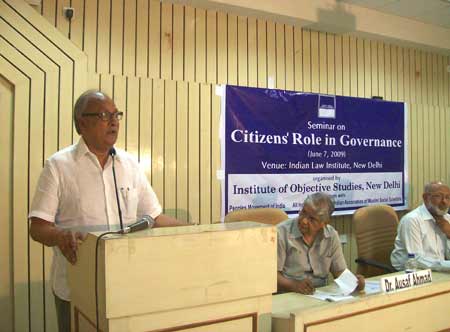 Speaker: Mr Nikhil Kumar
Former Police Commissioner of Delhi and Member Parliament Mr Nikhil Kumar observed that as the majority of aam aadmi lives in villages government policies had to be focused more sharply on the uplift of villages. Already National Rural Employment Guarantee Act (NREGA) has brought Congress Party close to the aam aadmi in villages, especially in Bihar.

He regretted that in his native Bihar only 31 percent of the funds of National Rural Employment Scheme (NRES) were utilised. Likewise, banks had failed to advance loans to Muslims in adequate numbers. That had to be corrected, he added.



Speaker: Mr Ravi Nair
Ravi Nair, executive director South Asia Human Rights Documentation Centre minced no words while describing what prevented citizens' involvement in governance. The Official Secrets Act, for one. "It is a bulwark against citizen's rights", he said.

The character of the Indian state is more unitary than federal, he observed. That also hinders than helps people's empowerment. So is the concept of sovereign impunity which nullifies citizens' rights in may cases. These provisions have to be erased in the interest of a more meaningful democracy.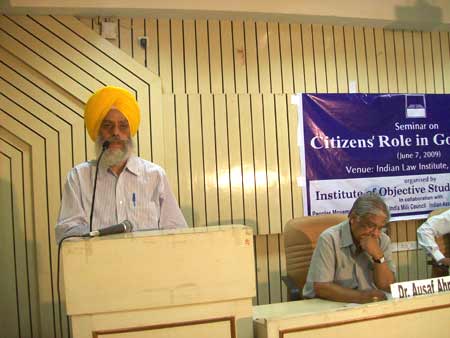 Speaker: Mr Gurdip Singh
Mr Gurdip Singh, chief editor Aja ki Awaz, said that candle light vigil at the India Gate against Mumbai terror attacks was a good idea, but there was no such vigil for the larger number of victims of 1984 or 2002 anti-minority killings. This reflects badly on the priorities of the civil society.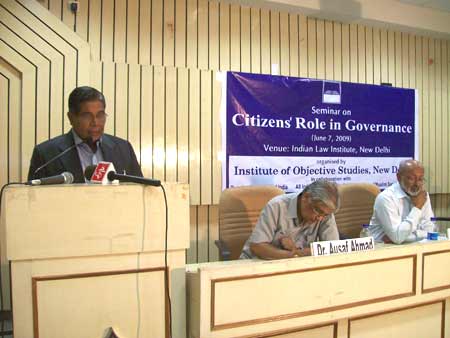 Speaker: Mr K Rahman Khan
In his presidential address Rajya Sabha Deputy Chairman K Rahman Khan lauded the RTI Act as a tool to empower citizens. However, he said that it would take some more time for a greater openness in governance to become a reality.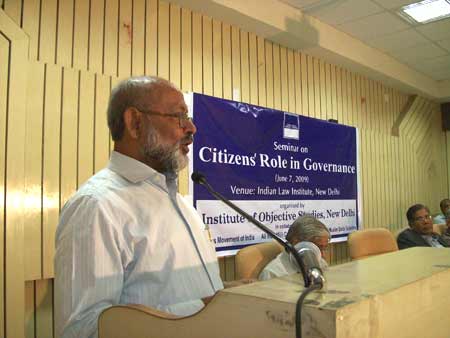 Speaker: Dr Mohammad Manzoor Alam
The Chairman of the Institute of Objective Studies Dr Mohammad Manzoor Alam stressed the need to reconcile the conflict between demands of liberty and security, individual dignity and the ham handedness of investigating authorities, privacy and dignity of the citizen on one hand state surveillance on the other, citizens' rights versus police powers.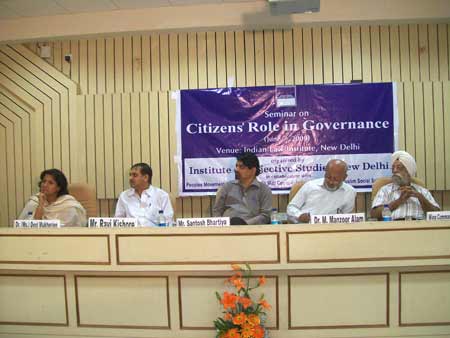 L-R: Dr Doel Mukherjee, Consultant on Police Reforms, Mr Ravi Kishore, A Businessman, Mr Santoosh Bhartiya, Editor Chauthi Duniya weekly, Dr M Manzoor Alam, Chairman IOS, Wing Commander RS Chatwal
Dr Aamir Ali, Asstt Professor of Political Science at JNU said that the work of three centuries of citizens' rights has begun to unravel today. "Civil rights came in the 18th century, political rights in the 19th and social rights in the 20th", he explained. However, he regretted that the social rights have begun to be destroyed by the state.

Dr Doel Mukherjee, Consultant on Police Reforms, said that police reforms in India had so far been elusive. Even the President's address to the joint session of Parliament on June 4 made a scant mention of it.

Former MP and editor of Chauthi Duniya weekly cautioned the audience not to expect any breakthrough from the 15th Lok Sabha. He said what people want for themselves (like education, employment, justice) is more important than what government is planning for them.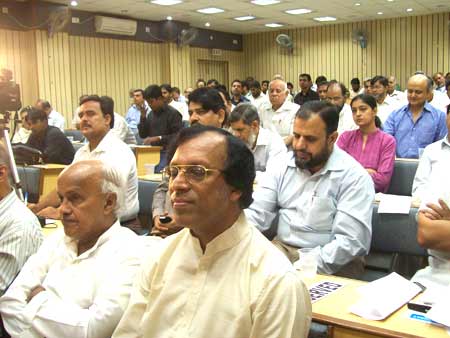 A view of audiance
The resolution mooting the establishment of a People's Monitoring Committee would publish quarterly reports on the functioning of government keeping in view constitutional guarantees, manifestoes of the UPA constituents, the President's address of June 4 and documents like the Sachar Committee Report.