DOCUMENT
CALL FOR A 'SECOND INDEPENDENCE MOVEMENT'

Dr Mohammad Manzoor Alam
I would like to briefly recall the moment in India's and world's history when our community elders of the time launched the All India Milli Council to spearhead our struggle for empowerment.

That precise moment came in 1992 at a crucial point in our life as a faith community. A fiercely anti-Muslim campaign was going on at that time which had set the entire country on the boil. The focus of that massive homicidal rage were Muslims, who were being pointed as villains to be crushed by the Ayodhya movement.

That was also the second year of the fall of Soviet Empire, the end of the familiar bipolar world order in which the globe was divided into two camps: one led by the Soviet communist bloc, the other by the Western capitalist bloc. Now the world had only one hyper power, the US. There was no longer a check on US-led Western hegemony, no balance of power. The world had become a more dangerous place, and within that India's internal divisions had grown.

The monumental violence preceeding, during and after Babri Masjid demolition towards the close of that year gave Indian Muslims a sense of urgency to act unitedly under a new, more far-sighted all-India organisation. All India Milli Council came into existence as an answer to our prayers at that dark hour.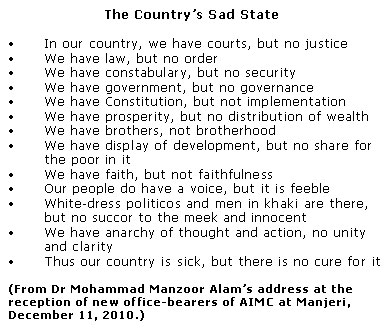 It brought hope at a time when the Constitution was demolished, the secular polity lay bleeding, rule of law was in tatters and the country was adrift. Over the last 18 years the All India Milli Council has restored hope, arrested that sense of helplessness and drift.

Today's India is living in the international context of globalization, which has both opportunities and challenges for us as Indian Muslims. Within this framework we have the Western military operations in Iraq, Afghanistan and potentially, Iran. Then we have the US-backed aggression against our Palestinian brothers. From time to time we have shown solidarity with these causes and tried to put our position on these issues with the government at the Centre as well as like-minded groups in India and abroad.

We are living in a post-9/11, post-Gujarat 2002 world where our difficulties have grown and deepened. We have taken note of the severe economic and social inequities, the poverty, illiteracy, malnutrition, corruption, discrimination, communalism and hate-mongering.

We have taken the lead from Sachar Committee Report, Rangnath Mishra Commission Report, NSSO and other reports to lobby with the powers that be at the Centre to have our issues addressed by the Union and state governments.

The Milli Council has also been co-ordinating with other weak and marginalised sections like Dalits, tribals, other minorities and working-class groups.

We as a community have to work harder to scrutinise government plans and projects for the uplift of the minorities and prepare an action plan appropriately. The Milli Council has taken it upon itself to take up the issues of our disempowerment and marginalisation with the media to highlight these issues for governmental action.

Obviously, all this cannot be done by a single organisation. In quite a few cases, the Milli Council's role has to be that of a facilitator between different organisations to forge a unified front of Muslim organisations for us to live with our own identity and dignity within India and the wider world.

Let us pledge to continue with our awareness programmes as a community and as a country through our projects like Kaarvane Aazdi and Siyasi Bedari Kaarvan to assert our role in the country. It is our country and we have played a crucial role in its independence. We would not allow its freedom and integrity to be jeopardised.

At the time of independence, Mahatma Gandhi had said it was not complete independence and we would have to work for our economic and social freedom in the years ahead.

We pledge to get our country rid of poverty, malnutrition, disease corruption, illiteracy, communal hatred, discrimination and state oppression. That is going to be our contribution to the second freedom movement. Let's all brace and get ready for it.

(Editor's Note: The above is an abridged version of Dr Mohammad Manzoor Alam's welcome address at the 14th annual conference of AIMC (December 11-12) at Manjeri town in Kerala.)

See News: Milli Council Demands Job Quota

(Courtesy: http://www.aimcnd.org/Second_Independence_Movement.htm)