IOS Felicitates Prof. M. Ishtiyaque and Mr. Mushtaq Ahmed

February 08, 2014 at IOS Conference Hall, New Delhi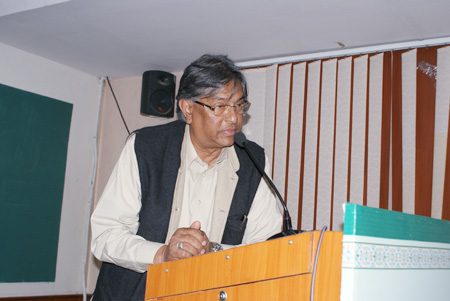 The Institute of Objective Studies (IOS), organised a felicitation ceremony on February 8, 2014, to honour Prof. M. Ishtiyaque, Member, General Assembly and Managing Editor, IOS Journal of Objective Studies on his appointment as the Vice-Chancellor of Magadh University, Bodh Gaya (Bihar), and Mr. Mushtaq Ahmed, advocate-on-record in the Supreme Court of India, on his election to the Executive Committee of India Islamic Cultural Centre, New Delhi.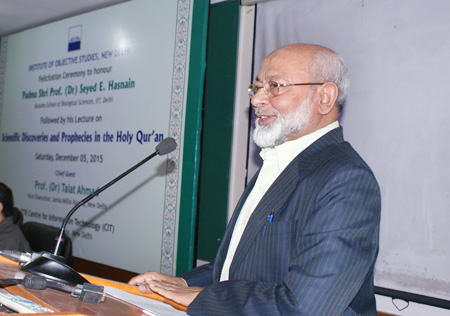 Addressing the gathering at the IOS Conference Hall, the Chairman of the Institute, Dr. Mohammad Manzoor Alam, described the moment as an occasion to share joy. Calling upon both of them not to under-estimate their own prowess, he opined that labour always paid. He disapproved of the theory propounded by the prophets of doom that "labour does not pay". Terming labour as Sunnah of Allah, he said that the one who worked painstakingly with Allah in heart and mind, would be blessed with success. He urged both of them to continue expressing gratitude to Allah. Commenting on the niche they carved out for themselves, he insisted that fragrance could never hide itself. He was sure Allah would continue blessing both of them. He especially cautioned Prof. Ishtiyaque against the intrigues that might be contrived against him. He counselled Prof. Ishtiyaque to frustrate any such attempt by strictly adhering to transparency and accountability. He expressed the confidence that Prof. Ishtiyaque would overcome the prevailing crisis of trust with his proactive role. Referring to the IOS, he noted that the Institute was fortunate to attract best minds to get associated with it. He exhorted the office-bearers of the Institute not to let the Islamic fervour go out of hand. The Institute was not a fiefdom of any individual; rather it belonged to the millat, he concluded.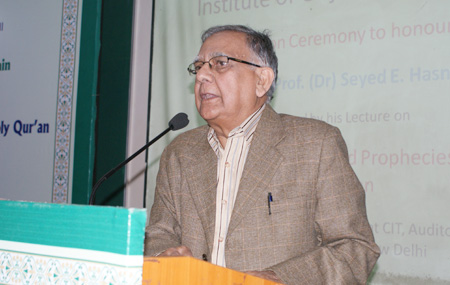 Speaking on the occasion, Prof. Ishtiyaque expressed his gratitude to Dr. Mohammad Manzoor Alam for playing an active role in the shaping of his personality. He recalled his days as a student at the Patna University and the Jawaharlal Nehru University, New Delhi, he said that he always endeared himself to his teachers. Sharing his experience at the Jamia Millia Islamia as a teacher for a period spanning more than three decades, he listed his achievements like writing a book on practical geography which was regarded as the first book on the subject in India and the construction of a large hostel for students which was an envy of other universities in Delhi. He noted that he was attracted to the IOS for research on socio-economic issues with special reference to Muslims. He said that he used to consult Dr. Manzoor Alam as and when faced with a difficult problem.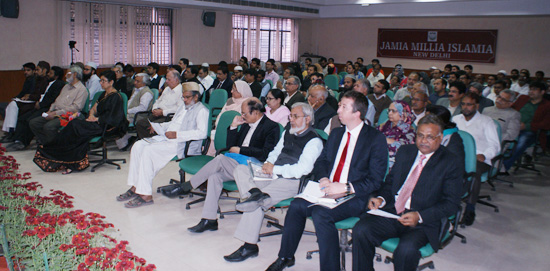 Mr. Mushtaq Ahmed in his frank speech mentioned his rural origins in Gopalganj district of Bihar. Reminiscing about his days in the Aligarh Muslim University, he gave credit to the teachers for his rise. He recounted how he set up his legal practice at lower courts in Delhi only to become an advocate-on-record in the Supreme Court. He said that Dr. Manzoor Alam had been a constant source of encouragement to him to move forward. He recorded his sense of appreciation of the IOS for extending cooperation to him.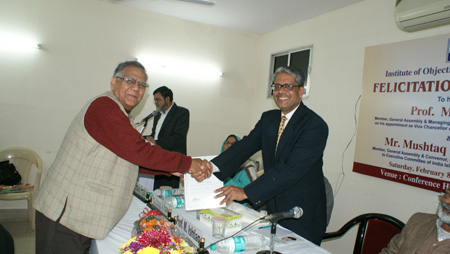 Prof. Refaqat Ali Khan, Vice-Chairman of IOS, observed that a great responsibility had devolved on them. They had to prove their mettle. Prof. ZM Khan, General Secretary of IOS in his welcome address recalled his close association with both of them. While assuring them of cooperation from the IOS, he hoped Prof. Ishtiyaque would use his wide academic experience to straighten the university and Mr. Mushtaq would be more actively involved in the affairs of the IICC. He urged both of them to keep their eyes and ears open on the outer world in order to take a whiff of fresh air.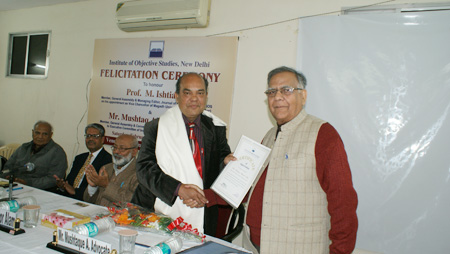 They were presented with a shawl each. While Prof. Ishtiyaque was presented a Certificate of Excellence, Mr. Mushtaq Ahmed was presented a Certificate of Appreciation.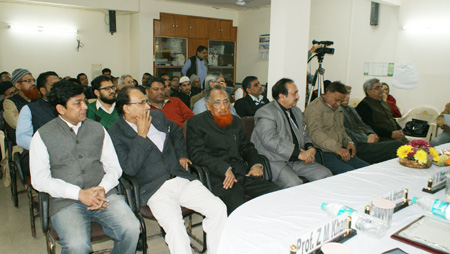 Earlier, Maulana Abdullah Tarique recited a verse from the Quran to mark the beginning of the function. While Mr. Nakhat Husain Nadvi conductd the proceedings, Prof. Hasina Hashia of Jamia Millia Islamia proposed a vote of thanks. Those who were present on the occasion included Prof. Naushad Ali Azad, Prof. Eqbal Husain from Jamia Millia Islamia, Chairman, Haj Committee, Delhi, Mr. Pervez Miyan, Mr. Firoze Ghazi Advocate, Dr. Anis-ur-Rehman, Dr. Mohsin Ali Khan, Mr. Ashraf Rizvi, Advocate, Mr. Sajjad Imam, Mr. Shahabuddin Husain, Dr. Syed Shakib Arsalan, Mr. Akhtar Saeed Khan and Mr. Waseem Fahmi.