One-Day Workshop on "RESEARCH METHODOLOGY: FUNDAMNETALS AND PRACTICES"

21 Jan 2013 at Arts Faculty Lounge, Aligarh Muslim University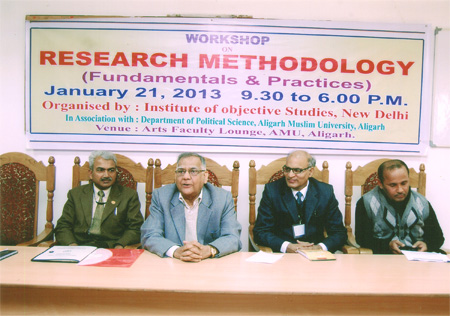 A SUMMARY REPORT

One-day methodology workshop on "research methodology: fundamentals and practices" was organised at Aligrah Muslim University with the financial support of the Institute of Objective Studies and the collaborative efforts of departments like CEPECAMI, Political Science, Sociology, Social Work, Linguistic and philosophy for building research capacity of research scholars in social science. This was organized keeping in view the dilemma that many students face to carry out a research in a more systematic manner because of lack of understanding of 'fundamentals of research' despite the course work on research methodology during graduation and post graduation levels. The workshop basically focused on helping participants to understand basics of research methodology with special focus on writing a research proposal. This programme was attended by 157 registered participants belonging to different disciplines and categories like few undergraduates and more from Masters, M.Phil, Ph.D, including scholars from foreign countries. The workshop continued between 9:30 am to 5:00 pm with lunch and tea breaks.


The session commenced with an introductory remark of the basic purpose of the workshop by Dr. Arshi Khan, the organizing faculty member. He brought to notice of all presented in the workshop about the practical problems of research scholars in doing a research. He talked about the importance of education and knowledge which can be further improved by useful research by scholars. He introduced the contributions made by the Institute of Objective Studies to the field of education and knowledge. In his introductory remarks, Dr. Khan welcomed the financial support of the IOS for holding this workshop. The technical session started with the inaugural address of Professor Akhtar Siddiqui of Jamia Milli Islamia, New Delhi. The technical sessions included four segments—Fundamentals of Research, Survey, Research Project Proposal and Islamic epistemological paradigm.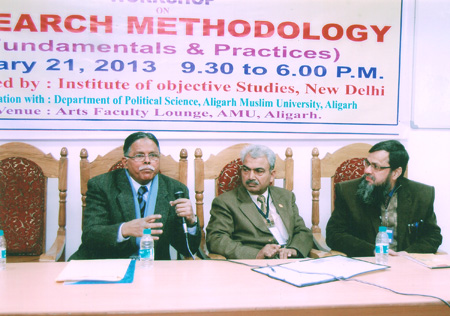 Prof. Akhtar Siddique, former head of NCTE (one of the Regulatory bodies of the Government of India) in his inaugural lecture talked about the importance of education and how education is understood from different perspectives by scholars from different disciplines. While speaking on the linkage between the progress in society and research, he emphasised that knowledge exploration is possible only through scientific research. Prof. Mirza Asmer Beg from the Department of Political Science, AMU shared his experience of how many research scholars complete their research work without an understanding of the fundamentals of doing a research. However, he recognized that research methodology has been a neglected area in the discourse of teaching at higher education levels. As a result, students are not much confident of carrying out research and fall into a trap of adopting a convenient approach of completing a research work rather than seriously exploring new areas of research.

The technical session on Research Methodology started with a discussion on fundamentals of doing a research by Dr. G. C. Pal. First of all, he pointed that the quest for understanding social reality and human behavior is at the root of methodological concerns. He explained the importance of two key concepts such as 'research', and 'methodology' to enable participants to understand the basics of any research in social science. It was pointed that research is more than an understanding of set of skills; it is a way of thinking. It is about questioning something to find answers that would add to the advancement of a profession and also solution of practical problems in life. However, in order to reach at answers, there is a need to understand some guiding principles to govern research questions- both theoretical and practical. While speaking on essentials of a research, he pointed that researcher should take into consideration key issues such as 'importance and usefulness of research' and 'contexts of research' and 'processes of doing a research'.

Before focusing on the research process, the speaker highlighted on important characteristics of a social science research. It is nothing but exploring relationship and causality between two or more factors in a systematic manner. Further, it Is verifiable, evidenced-base, critical and cyclic in nature. While drawing attention towards the cyclic nature of the research, he emphasized that majority of social science research are evolved from a theory or knowledge base or social experiences; and the outcomes of a research very often lead to further research. In the process of repeated research, the research questions are systematically studied and various methods of doing research are also reexamined and refined.

The speaker elaborated on important operational steps of doing a research such as formulating a research problem, specifying objectives, conceptualizing research design, collecting information from target groups, analyzing data and writing report. As each step requires some basic knowledge which researchers should acquire for successful completion of their research work, the speaker rightly raised a relevant question before the participants such as "How much they are well-versed with the required knowledge that each step involves?", This question in fact again brought the basic purposes of the workshop into the floor. Against this backdrop, the speaker explained various issues which included- 'formulate research problems/questions and objectives'; 'designing a research, methods of data collection, various types of sampling design, processing and analyzing information and principles of scientific writing of a report.

The discussion in fact evoked a lot of questions among participants to which the speaker tried to explain with research based evidences. Relevant academic interventions were also made from other experts and academicians. Participants were also provided with opportunities to respond to each other's queries. This question-answer session in fact enabled clarifying some of the misunderstandings of various methodological issues.

Following the mid-day break, second session of the workshop focused on quantitative and qualitative research with a special focus on survey research. Dr. Pal spoke about the quantitative and qualitative research as two broad methodological approaches for 'doing research'. He covered basic differences between these two approaches on various methodological parameters. It was concluded by saying, although it is true that there are disciplines that lend themselves predominantly either to qualitative or to quantitative research, neither one is markedly superior to the other in all respects; and one research cannot be solely a quantitative or qualitative. In recent years, there has been an increasing recognition by most disciplines in the social science that both types of research are important for a good research study. In several researches, we need to combine both qualitative and quantitative approaches. The research problem itself determines whether the study is classified as quantitative or qualitative.

As a part of quantitative research, the importance of survey method in the contemporary research and its implications were discussed in detail. The speaker pointed that the basic survey procedure as used in the social science is made up of a combination of techniques borrowed from various disciplines. The survey approach has been one of the more popular and dominant social research methods mainly due to the development of sampling techniques as they enabled inferences to be made about a population from the sample of population. However, survey could be conducted on topics where respondents would be willing and able to respond the research questions.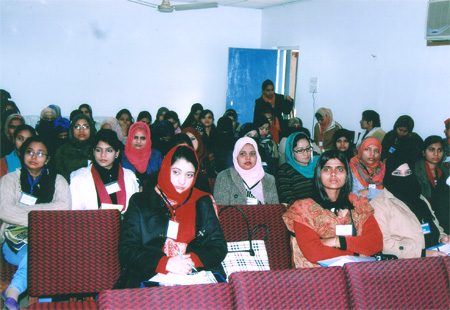 The speaker talked about the essentials for doing survey such as designing the research instrument in whatever form it may be, selecting a sample, collection information using a variety of techniques, coding of large scale data and its analysis. In this context designing a survey instrument, considerations must be given to accuracy of questions in content and comprehension, and its formatting, reliability and validity. Besides the traditional face-to face interview, surveys can also be conducted using method of mailing interview schedules, telephonic contact and internet websites. Survey analysis mainly involves observation of independent and dependent variables and explaining their relationship if any. Inferences are drawn indirectly from already existing variances in population by rigorous process of comparison.

Survey analysis also involves the process of elaborating the relationship among variables. Elaboration helps to answer the questions of why and under what circumstances. Accordingly, the speaker discussed on two types of surveys such as descriptive and analytical; commonly used in survey research. Finally, he highlighted on some advantages of survey research such as flexibility, generalisability and usefulness in verifying theories; and also some disadvantages such as time consuming in nature, low internal validity, limitation in establishing causal relations, inappropriateness in longitudinal studies etc.

The last session of the workshop focused on the important issue of writing a research proposal. As pointed out, research proposal is 'operational plan' to assure supervisors or funding agencies of the validity of the methodology used to obtain answers to research questions more accurately and objectively. Despite different requirements in writing a research proposals depending on time length, discipline, level of education of student researchers, supervisors or experts, funding agencies etc. there are some general guidelines in preparing research proposals, which to a large extent corroborate with the various steps involved in research process.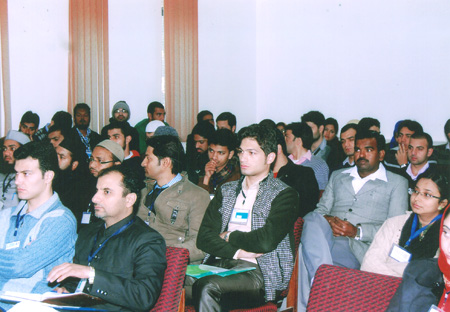 The speaker emphasized on some key issues those involve in these guidelines to enable participants to consider seriously while writing a proposal in a systematic manner. While drawing attention towards some variations in the guidelines of Ministry and other international agencies the speaker emphasized that any proposal has to consider some of the basic methodological considerations. This was highlighted through examination of various formats of writing research proposal as adopted by funding agencies. In order to make the participants more sensitive to proposal writing, the speaker pointed towards things expected by a reviewer of a research proposal. In order to provide a more concrete experience of writing a research proposal, he presented an illustration of a research proposal on a particular topic that was prepared based on important guidelines.

Dr. Ehtesham Khan form Magadh University chaired the last technical-cum-valedictory Session. He also played the role of moderator in previous sessions on survey methods and research techniques. He requested Prof. Z. M. Khan, representing the IOS to give his concluding remarks. He highlighted the importance of the workshop in the context of the emerging issues in national and international arenas. He also spoke about the importance of Islamic principles which need to be understood while research needs.

The workshop was closed with a vote of thanks by the organizer to the participants for their active participation in the workshop, institutions/departments whose support made it possible to organize the workshop, speakers who made all efforts to help participants to have a learning experience on research methodology, and others who assisted in making the workshop an eventful experience.


Arshi Khan
Organizing Faculty Member of the One-Day Workshop
Aligarh Muslim University