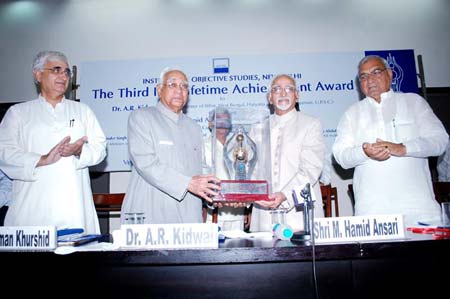 Dr A R Kidwai receiving award by Dr Hamid Ansari, Hon'able Vice-President of India
The award, carrying a cheque of Rs. 1 lakh, a citation and a memento, was given by Vice-President of India, Mr M Hamid Ansari.

Among the dignitaries present on the occasion were Mr Bhupinder Singh Hooda, Chief Minister of Haryana; Mr Salman Khurshid, Minister of State for Corporate and Minorities Affairs; Maulana Abdullah Mughesi, President, All India Milli Council, and Maulana Asrarul Haq Qasmi, Member of Parliament.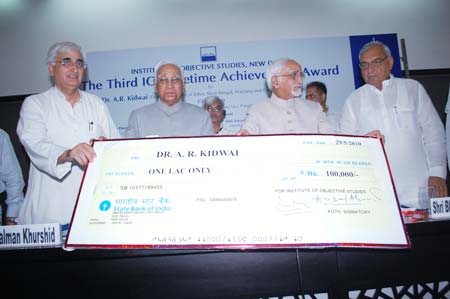 A view of presentation of cheque
The award, constituted by the Institute of Objective Studies in 2007, is conferred each year on an individual/organisation for contribution to national life and infusing a sense of morality and sanity in the public domain and selfless service to society, especially to marginalised groups and communities.

In his welcome address, Chairman of IOS Dr. Mohammad Manzoor Alam mentioned his long association with Dr. Kidwai, whom he described as a source of inspiration.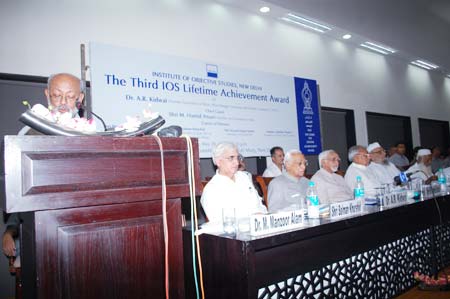 Dr. Mohammad Manzoor Alam delivering welcome speech
He said by honouring Dr. Kidwai the IOS was honouring the values of Islam and of the Constitution of India that give inspiration for nation-building.

In his acceptance speech Dr Kidwai thanked the IOS and its Chairman, Dr. Mohammad Manzoor Alam, for the honour bestowed upon him. The IOS, with its research on socio-economic issues, its advocacy of common people's causes, and its dedication to the building of a fair order in a rising India, had impressed him.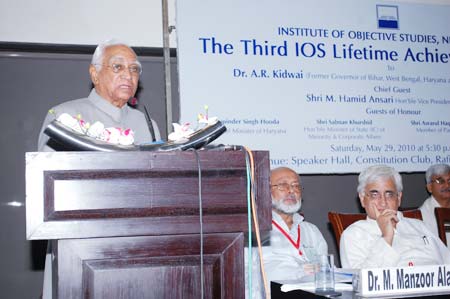 Dr A R Kidwai delivering his acceptance speech
He recollected landmarks in his academic and political life and frequently referred to Dr. Zakir Hussain who, from his stewardship of Jamia Millia to Vice-chancellorship of AMU, governorship of Bihar and as President of India remained a guide and source of inspiration for him.

Jamia was established by national leaders like Mahatma Gandhi, Maulana Mehmood Hasan, Hakim Ajmal Khan, Mohammad Ali Jauhar and others during the struggle for freedom and the boycott of government-controlled educational institutions. Its degree was not recognised, and highly qualified teachers had to often go without salaries, Dr Kidwai reminisced.

Parents were clearly told that their children were unlikely to get jobs and the education it provided was meant only to build knowledge, character and inculcation of the nationalist spirit. "Gandhiji used to visit us whenever he was in Delhi", Dr. Kidwai said. Gandhiji put one of his sons at Jamia to teach us Hindi and charkha, he added.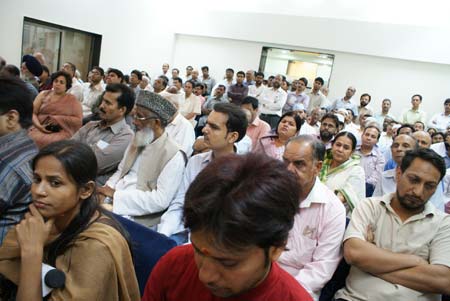 A view of audience
Born in 1920, Dr Kidwai was admitted to Jamia in 1928. That selfless spirit, "forged in the crucible of the independence movement, stood me in good stead all my life", he told the audience.

Frugality, constant innovation and improvisation taught at Jamia led him to promote new programmes for livelihood while he was governor of Bihar, West Bengal and Haryana. The Chief Minister of Haryana, Bhupinder Singh Hooda, testified that Dr Kidwai's gubernatorial initiatives led to creation of several innovative schemes in Haryana for common people.

In his address Maulana Asrarul Haque Qasmi, a Lok Sabha MP from Kishanganj in Bihar, said that during his governorship of Bihar Dr Kidwai had initiated several schemes of dairy, poultry and fishery that went on to improve people's economic wellbeing. One of those schemes was starting tea plantation in Bihar, which did not have the permission to do it before that. Dr Kidwai got the Union government's permission and started tea plantation over 25, 000 acres of land, benefiting local people tremendously.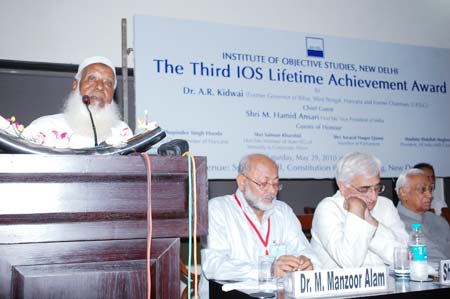 Maulana Asrarul Haq Qasmi presenting his views
Salman Khurshid, Union Minister of state for Minority and Corporate Affairs, described reminiscences involving Dr Kidwai. "It is a relationship stretching over three generations, and I hope it will continue to the fourth and beyond", he said. Khurshid happens to be the grandson of Dr Zakir Hussein.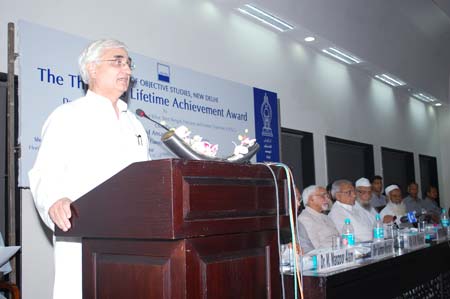 Mr. Salman Khurshid delivering guest speech
In some way or other, everybody present was "junior" to the 90-year young Dr Kidwai, including the Vice-President, Dr Hamid Ansari. Before beginning to pay his tribute to Dr Kidwai he said, "I was a student at AMU while Dr Kidwai was a professor there. What can a student say about a professor?" And then he went on to laud the many qualities of heart and mind of Dr Kidwai. One of his landmark initiatives was the creation of Mewat Development Board for the development of that backward region with a Muslim majority.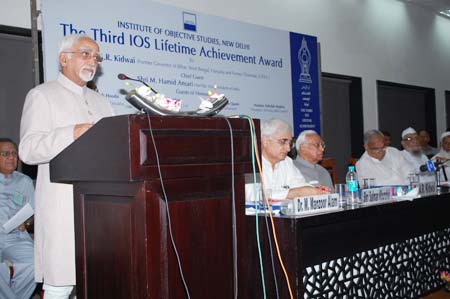 Dr Hamid Ansari, Hon'able Vice-President of India delivering Chief Guest remarks
The programme, conducted by Prof. Z M Khan, Secretary General of the IOS, began with a recitation from the holy Quran by Maulana Abdullah Tariq and concluded with a vote of thanks by Mushtaq Ahmad advocate.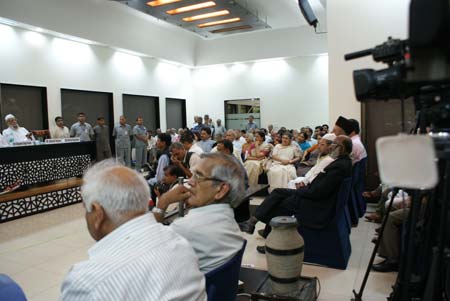 An other view of audience