The Islamic schools are spread in every nook and cranny of the Indian subcontinent. There must be thousands of institution. They employ thousand of teachers and cater to the educational needs of hundreds of thousands of students; although a recent report of the Government of India, (popularly known as Sachar Committee Report) estimated that only four percent of Indian Muslim children obtain education through Madarsah System. However, in absolute terms even 4 percent of 130 million people become a big number. Another characteristic of Madarsah system is that in almost in its entirety, it is based on private initiative independent of government support. Each institution is free to choose its policy. It decides what to teach, how to teach, whom to teach and by whom teach. Since Islamic schools in India are financially independent, there is least amount of interference from government or any other outside agency, if any at all. The freedom and independence of Islamic schools in India offers a unique opportunity for the application of modern Islamic finance in these institutions.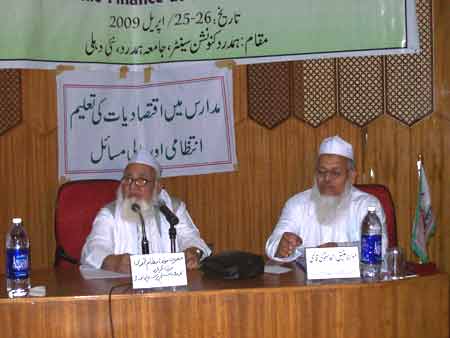 Islamic Finance and Religious Schools

The emergence of Islamic finance has provided a unique opportunity for the application of Islamic Shari'ah in financial activity in the modern times. The products of the Islamic financial industry have to be 'Shari'ah compliant' by necessity. Shari'ah Control and Supervision of Islamic financial institutions appear to be a necessary condition for the genuineness, authenticity and credibility of these institutions. Thus, Islamic financial industry generates demand for shari'ah skills. The Islamic schools and institutions are natural suppliers of these skills. However, except utilizing the services of some Shari'ah scholars at the high levels, the Islamic financial industry has been content with using the services of graduates in economics, finance and management etc. whose knowledge of Shariah is at best rudimentary.

Genesis of the Workshop

Keeping this in view, two institutions in New Delhi, the Islamic Fiqh Academy (India) and the Institute of Objective Studies, New Delhi, approached the Islamic Research and Training Institute of the Islamic Development Group, Jeddah for sponsoring a two day national workshop to examine various issues involved in teaching Islamic Finance.

The Grant

The Islamic Research and Training Institute provided a generous grant of US $ 20,000 (Twenty thousand dollars) and two scholars to attend the workshop on its behalf. [See Annexure II] Mr. Sirajul Haque from IRTI and Dr. Abdul Azim Islahi from King Abdul Aziz University were designated to attend the workshop on behalf of IRTI.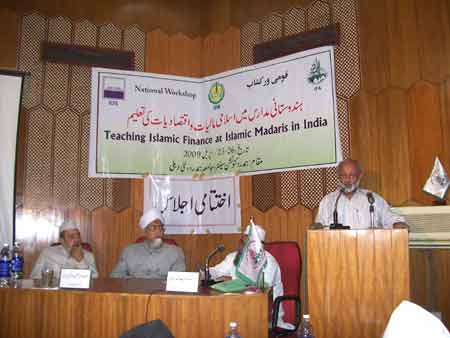 Organization of the Workshop

The workshop was organized jointly by the Islamic Fiqh Academy and the Institute of Objective Studies and the Islamic Research and Training Institute, Jeddah. All the literature printed for the workshop bears the logos of these organizations. The workshop was held on 25th and 26th April 2009 Corresponding to 29 and 30th Jumad Awwal 1430 H in the Convention Center of Hamdard University.

Participation

A total of 113 institutions from all over India were invited to attend the workshop. Out of these 69 institutions attended. Some of the important institutions which were represented in the workshop are listed below:
Islamic Fiqh Academy , India
Institute of Objective Studies, New Delhi
King Abdul Aziz University, Jeddah
Islamic Research and Training Institute, Jeddah
All India Council of Muslim Economic Upliftment, Mumbai
Darul Umoor, Sri Ranga Patnam, Karnataka
Jamia Islamia, Shantapuram, Kerala
Darul Uloom Deoband (Waqf)
Nadvatul Ulema, Lucknow
Jamia Nazimia, Hyderabad
Al Mahdal Aali littadrib fil Ifta wal Qada, Bihar
Jamat Islami Hind, New Delhi
Indian Center for Education in Islamic Finance, New Delhi
Islamic Banking and Finance Net, New Delhi
In short, it was a representative gathering of religious institutions. A complete and authenticated list of participating institutions shall be submitted later. For the time being, a list of individuals who participated in the workshop is given in the Annexure III.

Certificate of Participation

A certificate of Participation was given to all participants. It was signed by the following persons:
Mawlana Khalid Saifullah Rahmani, Secretary general, Islamic Fiqh Academy
Dr. Manzoor Alam, Chairman, Institute of Objective Studies
Mr. Sirajul Haque, Representative, Islamic Research and Training Institute The text of the Certificate was in Urdu and English. A specimen copy the certificate shall be forwarded later.
Inaugural Ceremony

The inaugural ceremony was presided over by Mawlana Mohammed Salim Qasmi, Rector of Darul Uloom Deoband (Waqf). The Inaugural address was given by Mawlana Khalid Saifullah Rahmani, Secretary General of Islamic Fiqh Academy, India. Since inaugural address was delivered in Urdu, its Arabic and English translation is presently underway. It shall be submitted to IRTI/IDB as soon as it is completed. The Key note address was presented at the workshop by eminent Islamic economists Dr. Mohammed Nejatullah Siddiqi. It shall also be submitted after completion of its translation. After Key note address, Dr. Mohammed Manzoor Alam, Chairman, Institute of Objective Studies delivered a Special address to the workshop.

Mawlana Salman Hasani Nadvi (Nadwatul Ulema, Lucknow) and Mawlana Wali Rahmani (Bihar) also addressed the gathering and put forward their views on the subject. After the Presidential Speech by the Chairman of the session, Mawlana Mohammed Salim Qasmi, Rector of Darul Uloom, Deoband, (Waqf), Vote of thanks was presented by Mawlana Zaubair Ahmad Qasmi.

Presentation of Papers

The first technical session was chaired by Mawlana Saeedur Rahman Azmi, Rector of Nadvatul Ulema, Lucknow. Following three papers were presented at this session:


Teaching of Fiqh al Muamalat at Religious Schools in India: Present situations and possibilities by Mawlana Khalid Saifullah Rahmani
Teaching Islamic Finance at Islamic Schools in India: Background, Need, Significance and Possibilities by Dr. Ausaf Ahmad
Teaching Islamic Finance at Madaris: the need, difficulties and their solutions by Dr. Abdul Azim Islahi, King Abdul Aziz University.
The discussion was initiated by Dr. M. N. Siddiqi. A large number of Participants took part in the open discussion.

Case Studies

The second technical session was devoted for the consideration of actual experiences of teaching Islamic Finance. Following experiences were narrated at this session which was chaired by Mawlana Nematullah Azmi, a renowned professor at the Darul Uloom Deoband.
Practical problems in Teaching Islamic Finance by Dr. Rahmatullah
Post Graduate Diploma in Islamic Economics and Finance at Jamia Islamia by Dr. Mohammed Plath and presented by Mr. Abdur Raqeeb
A Comparison of Teaching Programs at Darul Umoor and Jamia Islamia at Shantapuram by Dr. M. I. Bag Siraj
An Experience of Teaching Economics at an Islamic School (Jamia al Falah) by Dr. Zahid Ahmad and Presented by Dr. Ausaf Ahmad
In addition to the above, a paper by Dr. Mohammed Ayub on Promotion of Human Resource Development through Teaching Programs at Religious Schools : Issues, Difficulties and Initiatives, earlier presented at a conference in Malaysia was also circulated among the participants.

Consideration of Issues

The next two sessions were open houses for consideration of the following issues:
Academic Issues
Administrative and Financial Issues
The academic issues such as formulation of relevant syllabi, preparation of text books, training of teachers, duration of training, nature of certificates, levels of teaching etc were raised and discussed at the third session, which was chaired by Mawlana Kaka Saeed Umari, Administrator of Jamia Darus Salam, Umarabad, Tamil Nadu. The discussion was led by Dr. Ausaf Ahmad and Dr. Abdul Azim Islahi. Administrative issues were taken up at the fourth technical session, which was chaired by Mawlana Mohammed Tahir Madani, of Jamia al Falah, Billaria Gunj, Azam Gadh. Since the discussion at the earlier session remained inconclusive and it was also thought that a number of issues were overlapping, the two sessions were merged together and any water tight compartmentalization was not considered desirable.

There appeared to be consensus on the following issues:
The religious schools in India must seriously examine the possibility of teaching Islamic economics and finance at their schools.
The appropriate level to start an introductory course shall be before Alamiat. The two courses should be Principles of Economics and Indian Economic Issues. The more specialized course in Islamic finance must be offered to those interested after completion of their studies at Madaris.
Till such time that appropriate text books may be prepared, text books prepared by the National Council of Educational Research and Training may be used after necessary and relevant modifications. Appropriate Islamic orientation must be given wherever considered desirable. The issue of modification must be left over the concerned teacher.
Although the issue of self financing courses was raised, it did not receive much support. It was thought there is no need to recourse any substantial change in the prevailing situation. Each educational institution would decide for itself, looking at its situation. If it finds in a position to start the course, then, it will also find the resources required for it.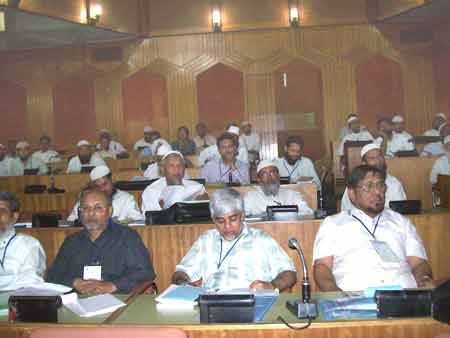 Resolutions and Recommendations

A resolution containing 15 points was adopted unanimously at the end of the workshop, which also made a number of recommendations. Some major recommendations are being summarized here:
The Islamic financial institutions have devised some new methods of investment within the framework of Shari'ah. It is incumbent on the students of Islamic madaris in general, and the students specializing in the issue of Fatawa in particular to be familiar with these. Hence, the workshop appeals to religious educational institutions to introduce modern economic principle and Islamic economics and finance in their system of education.
The education of economics and finance must be integrated in the general system of Madarsah education. It must be before the stage of Fadilah. A simple book on economics giving definitions, terminology, basic concepts and introducing financial institutions must be adopted.
The second stage of economic and financial education at Madarsah must be after the stage of Fadilah. It must be one or two years term. Economics and Fiq al Muamalat must be integrated and introduced with a full exposure. It may include practical applications as well as practical training at some Islamic financial institution. The large educational institutions are requested to introduce " Specialization in Islamic Economics and Finance " as a part of their programs.
The institutions which have specialization in Fatawah or Fiqh are particularly requested to introduce Islamic economics and finance in their syllabi.
The IFA, IOS , IRTI and IDB are requested to undertake necessary steps for the preparation of required Text books in different languages.
Extension lectures by reputed scholars must be arranged for the students of Islamic madaris on economics and Islamic economics, banking and finance.
The sponsoring institutions are requested to take necessary steps for designing syllabi, preparation of text books, supply of experts and training of teachers on a priority basis.
The workshop appointed a five member committee to pursue the implementation of these recommendation. The members are: Dr. Manzoor Alam, Dr. Ausaf Ahmad, Mawlana Khalid Saifullah Rahmani, Mawlana Ateeq Ahmad Bastavi, and Mawlana Amin Usmani