IOS meet to commemorate Al-Zahrawi on 1000th anniversary

April 16, 2013 at IOS Conference Hall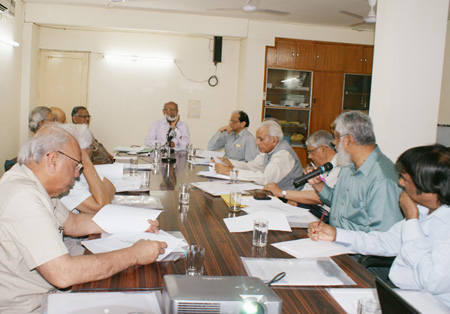 New Delhi, April 13: The Institute of Objective Studies has decided to organise a three-day international conference on Abul Qasim al-Zahrawi, to mark the 1000th death anniversary of the pioneer physician and surgeon. The conference will be held from December 13 through 16, 2013 at New Delhi.

The above decision was taken at a consultative meeting held today at the Institute which was attended by experts of surgery, medicine and Tib. The Institute's Chairman Dr. Mohammad Manzoor Alam said that the conference is being organised to highlight the wide-ranging contributions of Abul Qasim al-Zahrawi to medicine and surgery. Eminent doctors, surgeons, medial scientists and experts of Tib from within and outside the country will participate in the conference.

Those who participated in the meeting included Dr. Ahmad Abdul Hai (Patna), Dr. Fakhruddin Mohammad (Hyderabad), Prof. Dr. M. Amanullah Khan (Aligarh), Prof. Hakeem Zillur Rahman (Aligarh), Dr. M. Farooque, Al-Shifa Hospital, Delhi; Dr. Shakeel Tamanna, Majeedia Hospital, Delhi; Dr. Altaf Ahmad Azmi, Delhi; Prof. A.R. Momin, Mumbai; Prof. Z.M. Khan; Prof. Rifaqat Ali Khan, Prof. Ishteyaque Danish; Dr. Ausaf Ahmad and Prof. Sanghasen Singh (all from Delhi).