The programme, organised jointly by the Institute of Objective Studies (IOS) and Indo-Arab Economic Co-operation Forum, began with the recitation of the holy Quran by Maulana Abdullah Tariq, followed by an introduction of the IOS Indo-Arab Economic Cooperation Forum by Prof. Z.M. Khan, who is the General Secretary of IOS.

In his welcome address IOS Chairman and Indo-Arab Economic Cooperation Forum President Dr. Mohammad Manzoor Alam said, the economic recession and meltdown had adversely affected the developed world through 2008-09. Waves of instability and insecurity had shaken up their institutions and their confidence. "There is now a perceptible shift of power towards the BRIC countries – Brazil, Russia, India and China", he said. In Asia, and more specially in India, we were relatively sheltered from this financial chaos and havoc.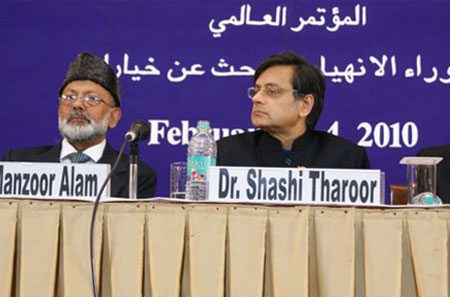 Dr. M. Manzoor Alam and Dr. Shashi Tharoor


Our banks and financial institutions, our stock markets and corporates have not suffered as those in the Western world.

Quite clearly, there is a lesson that the world needs learn from the Asian and Indian experience.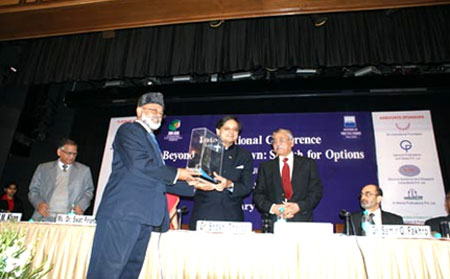 Dr. M. Manzoor Alam presents a memento to Dr. Shashi Tharoor


India could now show to the world the way forward with 'humane' socio-economic reforms: Reforms that would lead to inclusive development, all-round growth and sustainable action-plans for all segments of society.

"Our world cannot be driven by greed for profit alone", he asserted.

Islamic economics, finance and banking have answers and solutions for our modern world. They may be debated and adopted as an option.

The keynote address was delivered by management guru Prof. Vinaysheel Gautam, Founding Director IIMK, Professor and First Head Management Studies IIT (D). Prof. Gautam wondered whether the meltdown was "really over", or it would not recur. He said many financial institutions were often regulated, or over-regulated, but quite a few banks were either under-regulated or unregulated. It was, in fact, a diverse picture ranging from unregulated to under-regulated and over-regulated financial institutions.

He said the situation called for cool thinking. "Slogans are no substitute for cool thinking", he warned. In his familiar pithy style he remarked, "There is a need to regulate the regulators." Drawing on the analogy of the Noah's flood story of Abrahmic faiths Prof. Gautam said the main inferences for disaster aversion were: (1) Don't miss the boat (2) All of us are in the same boat (3) Plan a meaningful intervention (4) Noah's ark was built by amateurs and Titanic was built by professionals.

The prescription sounded eerily like usual managementspeak. He began it with a dig at the economist's and the manager's narrow and often self-serving perspectives. That was Prof. Gautam's way of telling everyone that there was no final word on anything and people would do well to depend on their own understanding of what had hit them as much as they would prefer to rely on "expert" opinion.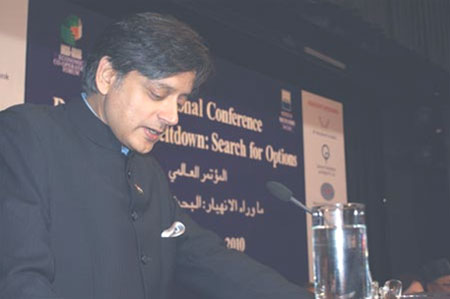 Dr. Shashi Tharoor, Hon'ble Minister of States for External Affairs, Govt. of India inaugurates the conference


The programme was inaugurated by Minister of State for External Affairs Dr. Shashi Tharoor. Our ancestors had sailed through the Arabian Ocean for millennia, trading in food stuff, textiles, jewellery, pearls and dates, he observed. Today, India's annual trade with GCC stood at $100 billion, and with the whole Arab world at $110 billion. After the United States the Arab world had emerged as the second largest trade partner for India. Last year the GCC made an investment of $1.59 billion in India.

The GCC countries, he pointed out, were sitting on a colossal pile of disposable revenues (estimated to be around $3-4 trillion) which amounted to almost half of the global sovereign wealth funds "intended to be used for investment". He explained the case for India "as a more attractive destination for such investments". He invoked old cultural and business ties and currently shared concerns about security to make the point that greater Indo-Arab co-operation should be a worthwhile goal to pursue.

Making a reference to the Arab-Israeli conflict over the rights of Palestinians, he said India stood by its commitment to a just and fair solution to the Palestine issue that included establishment of a Palestinian state with contiguous territory and well-defined, secure borders side by side Israel.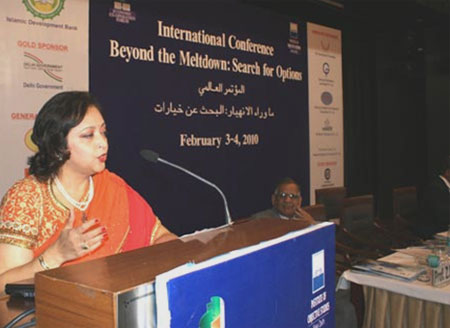 Speaker: Ms. (Dr.) Swati Piramal, President- ASSOCHAM and Director Piramal Healthcare


Guest speaker Ms. (Dr.) Swati Piramal, who is President of ASSOCHAM and Director Piramal Healthcare, looked at the worldly issues of finance and economic development from the sufi perspective of Jalaluddin Rumi and Sant Kabir. She said development policies should be made keeping in view our cultural sensitivities, local resources and needs.

Besides creating bigger infrastructural networks like ports, airports, roads and railways, local strengths should also be utilised. "I was in Bihar recently where I found that development of agro-industries like food processing would boost incomes and prevent wastage of agricultural produce because of inadequate storage". She said in Rajasthan goats and sheep were raised, but their economic value was not realised fully. "We should have shearing to produce wool", she suggested.

Dr Piramal emphasised the role of women entrepreneurs, whose "heritage products" exhibition ASOCHAM was going to take to Abu Dhabi "to build bridges". She advocated promotion of green technologies and rural uplift "to attain the Garden of Paradise within us".



Speaker: Dr. Samir Fakhro, Vice-Chancellor, Arab Open University, Bahrain


Another guest speaker, Dr. Samir Fakhro, who is Vice-Chancellor, Arab Open University and Advisor to UN for IT and Education, Bahrain, said that all investments coming to India must remain here to become an "inseparable part of the Indian curry and not to be withdrawn from here."

He said if Islamic finance had to come to India it should come only when people here desire it. Indians should first know the non-exploitative nature of Islamic finance to be able to appreciate and welcome it. "The ethical, value-based and participatory Islamic finance should blend with India's ethos", Dr Fakhro proposed.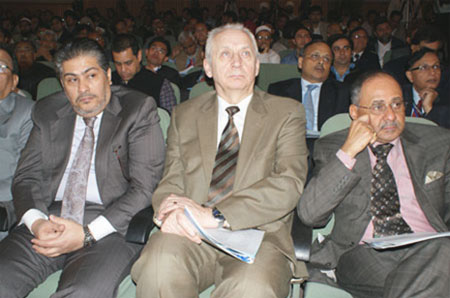 View of Audience


CMD of UTI and Additional Secretary to Government of India, Mr. U.K. Sinha, said that the meltdown was not wholly and truly over. He tried to analyse the causes of the US-led global meltdown. Among the reasons was the tacit encouragement to shadow banking in the United States and wild lending to people who had no income and no job to be able to repay. The loan to asset ratio of banks was 134 to 1, which was shown as 73 to 1 on balance sheets. By the end of 2001 the adverse effects of this policy had started to emerge.

In his presidential address former Chief Justice of India, Justice A.M. Ahmadi, said "the mess created by experts" was difficult for governments and financial institutions to sort out.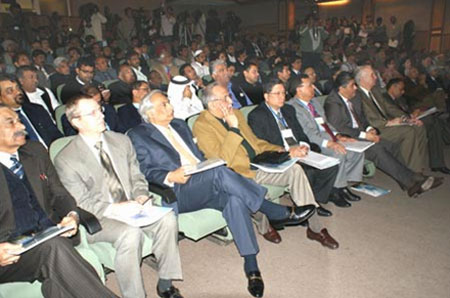 View of Audience


He said over the long-term, India would have an edge over China because it had the advantage of English language, democracy, rule of law and an independent judiciary. Paraphrasing Mahatma Gandhi Justice Ahmadi said there was enough money for the need of everyone on earth, but not enough to satisfy the greed of even one person. The meltdown was created by greed, he explained.

Justice Ahmadi opined that the compensation package of major corporate executives ran into crores of rupees each, which was not fair to common people who were earning infinitesimally smaller incomes. The big industrial houses should share the cost of economic uplift of people living in dire poverty, he suggested.

A vote of thanks was proposed by Indo-Arab Economic Cooperation Forum's Ravi Kishore at the end of the inaugural session.


DAY-1
Business Session-I
Theme:- Infrastructure: Opportunities Abound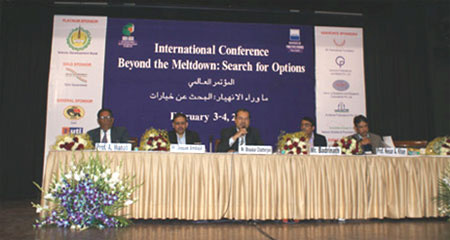 L-R: Prof. Abdul Wahab, Mr. Deepak Amitabh, Mr. Bhaskar Chatterjee, Mr. Badrinath, Prof. Nesar A Khan


Secretary Department of Public Enterprises, Ministry of Heavy Industries Government of India, Bhaskar Chatterjee, chaired this session. He observed that earlier infrastructure development was solely in government domain. "Today, there are no free lunches as far as infrastructure is concerned", he pointed out. By instituting user charges the cost of building and maintaining infrastructure had to be met.

Infrastructure had a long gestation period (the point of time when it has paid back the investment and become profitable). Funds for such work were available from bond markets and capital markets. Usually governments had not kept pace with the need for infrastructure development. "There is a viability gap and land availability is the single biggest hurdle", he said, adding that this problem had to be sorted out on priority basis.

Editor Policy, Financial Chronicle, Badrinath, said there was a "serious potential for Indo-Arab partnership in infrastructure development".

He cited the example of the "road show" by the British-Indian Road Group that at the end of the exhibition announced to build 20 kilometers of road everyday. Talking about the scale of opportunities for Indo-Arab partnership in infrastructure development, he said India had decided to lay 56,000 km of roads at a cost of a whopping $66 billion, and create a 78,000 megawatt power capacity at a mind-boggling $260 billion.

"With the Arabs we share common ethics derived from the Vedas and Islamic scriptures, and all this money to be made is going to be decent and ethical", Badrinath observed.

He said Finance Minister Pranab Mukherjee had mooted a joint sovereign fund in UAE; our major bankers had met the Malaysian Prime Minister proposing Shariah-compliant banking operations; and the Prime Minister had set a target of producing 20,000 megawatts of renewable-source energy. All that showed that great opportunities were there to be tapped, he concluded.

Prof. A. Wahab of Department of Economics, Aligarh Muslim University said the quality of infrastructure in India was still poor and demand outstripped supply. The outlay on infrastructure was also meagre compared to China's, which allocated 10 percent of the GDP to it while India's allocation was only 5 percent of the GDP, to be increased to 9 percent by the end of the Five Year Plan. A third of the investment was either private or public-private, he explained.

Director Finance Power Trading Corporation of India, Deepak Amitabh, said India was the third largest Asian power producer after Japan and China. Cement, steel and electricity were core elements, and infrastructure development was the main hurdle in economic growth, he pointed out.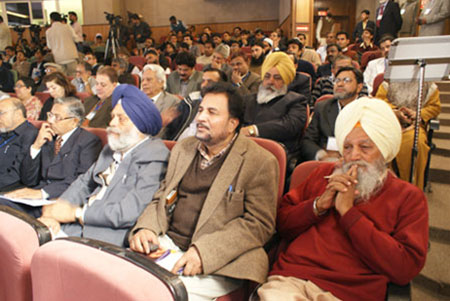 View of Audience


In the power sector, generation reforms were already underway, but distribution reforms were difficult because of the political sensitivity of the issues involved, he said. Power being on the concurrent list (shared by the Union and States), decision-making and project implementation were complicated. As commercial banks were unwilling to invest in infrastructure, 37 percent of the infrastructure was government holding, the rest was public-private.

North-east had hydro power potential, but lack of roads, forest clearance and the right of way caused obstruction in the realisation of potential. Like the European Union, India too was thinking of placing some of the capacity in neighbouring countries like Nepal, Bhutan and Bangladesh.

Prof. Nisar A. Khan, Department of Economics, Aligarh Muslim University, Aligarh remarked that the United States still dominated the FDI in India which came to India via Mauritius because of the double taxation avoidance treaty. In India portfolio investment had outstripped FDI, but FDI had begun to catch up of late.

In India 70 percent of petroleum products was imported while 30 percent of the need was met by domestic products, he added.


DAY-1
Business Session-II
Theme:- Recession: A Good Time for Entrepreneurs



L-R: Mr. S. Sridhar, Mr. Jitin Prasad, Dr. A.R. Qidwai, Mr. Shakeel Khan, Mr. Sanjay Salil, Mr. Rudy Yaksick


This session was chaired by former Governor of Bihar, Bengal and Haryana, AR Kidwai. He observed that India and China were the growth machines that were expediting global economic recovery. He also thanked the Institute of Objective Studies for initiating such meaningful discourse at a time when the world was looking at India and China with hope.

Union Minister of State for Steel and Natural Gas Jitin Prasad said that the two stalwarts, Pandit Jawaharlal Nehru, and Mrs. Indira Gandhi, had left a conservative legacy which had taught us caution. That caution saved Indian businesses in the downturn. The United States had started corrections in its financial system soon after the Great Depression of the 30s had set in. "We should also start such corrections right away to protect our financial system in future", he suggested.

Because of India's innate strengths like a massive pool of highly-skilled professionals, cheaper labour and office accommodation, the best talent would stay back in India, plugging the brain drain. He invited foreign investment to India's "recession-proof industries" like energy, medical and health service.

He also thanked IOS Chairman and Indo-Arab Economic Co-operation Forum president, Dr Mohammad Manzoor Alam, for organising such a crucial conference.

CMD of Central Bank of India, S. Sridhar, corrected the common misconception that India, too, was hit by recession. "For a recession, you have to have two consecutive quarters of negative growth, which India never had". He observed that of late recessions had grown in frequency but shortened in duration. That had given corporates the reason to rejig accordingly.

The positive fallout for India, Sridhar said, was that overseas investment by Indian firms had grown tremendously and companies from India had acquired huge assets overseas during 2007-2008-2009. The telecom sector had boomed and Vodafone was coming up with high-value $20 sets. Autoindustry was upgrading technology, meeting Euro-I, Euro-II, Euro-III and Euro-IV standards on way to perfection.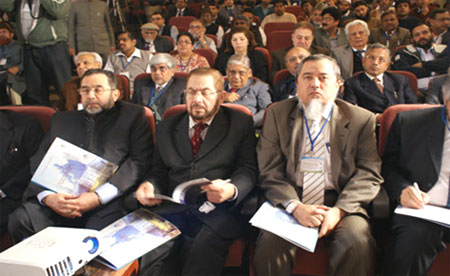 View of Audience


Rudy Yaksick of Concord Capital Partners from the United States cautioned that India should not bank exclusively on cheap labour as "tomorrow Africa will provide cheaper labour". India should focus on diversification and improvement through the entire value network, from captive-value to lower-value chain to higher-value chain. He said the rich-poor gap should not be allowed to widen further.

MD, Media Guru, Sanjay Salil, said that because of the slow-down his company had bought another company that was 20 times bigger than their pre-slow-down capability would have allowed them to buy. Slow-down, thus, was an opportunity for buyers.


DAY-1
Business Session-III
Theme:- Rural Demand: Untapped Market Potential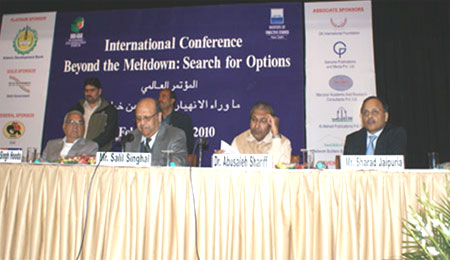 Mr. Bhupender Singh Hooda, Mr. Salil Singhal, Dr. Abusaleh Shariff, Mr. Sharad Jaipuria


The third business session of the day was chaired by Chairman PI Group of Industries, Salil Singhal. Emphasising the value of building the rural economy he said that 66 percent of India's population lived in villages, but they produced only 18 percent of the GDP. That situation had to improve in days ahead.

The global economy was emerging out of the recession and higher agricultural products prices were of some help to rural producers. Quoting management guru CK Prahalad he said the future lay in the rural markets.

Delivering the theme address Haryana chief minister Bhupinder Singh Hooda said rural road connectivity was crucial for rural development, and rural road connectivity was the best in Haryana.

He explained how the new chaupals, especially women's chaupals, had helped create prosperity. High-quality rural health services and state-of-the-art rural roads, rural educational institutions (upto university level), rural electric and water supply in Haryana had brought this state's countryside on a par with the infrastructure available in good cities.

The state government had built homes for Dalits and paid the highest compensation for land in India. It also had the highest income after Goa. Senior Research Fellow of IFRRI, Dr. Abusaleh Shariff said South-East Asia had not emerged very well from the economic crisis of 1988-89. Talking of the financial tsunami he said that it was the second deepest crisis after the Great Depression of 1930s. The 2008-2009 recession was largely the outcome of inefficient, non-transparent and exploitative banking practices in the United States.

Counting on India's strengths he said that India's domestic demand had been driving its economy and the shock to it was less pronounced than to China's economy. The Planning Commission saw a 9 percent annual growth rate over the next five to ten years. The services sector had grown remarkably over the year.

Dr Shariff said that unlike China the GDP in India was focussed on domestic sector. Also tow-third of the FDI had gone into the manufacturing sector, which was "pro-poor and pro-labour".

Unlike the industrialised countries India's GDP had grown continuously at a high rate. In the slowdown Japan grew at .5 percent and the US at .25 percent, but India in certain sectors grew at 10-15 percent rate although the overall rate was a little lower.

CMD Gini International, Sharad Jaipuria, explained that business in Tier-2 cities was to grow by 40 percent in FMCG (fast-moving consumer goods). Giants like ITC, P&G, Birla, Godrej, Tata, Bharti and Wallmart were moving into small towns, into a $25 billion market in India.

Jaipuria said there was a huge market in rural areas for telecom, insurance, cement, tractors and motorcycles. The rural markets were expanding at five times faster rate than urban markets. With rising agricultural prices the purchasing power in rural areas had only to grow.

He cautioned entrepreneurs to "probe before you plunge". Ethnic and socio-cultural diversity of rural society had to be respected and specific needs of rural consumers to be taken into account. "One size does not fit all", he said to emphasise the need to study the specifics.

Head Department of Commerce, Delhi School of Economics, Dr Sanjay K. Jain said in the rural areas the market would expand by 53 percent, durables by 60 percent and LIC by 55 percent. The future lay in villages, he added.


February 4, DAY-2
Business Session-IV
Theme:- Islamic Finance: From Niche to Mainstream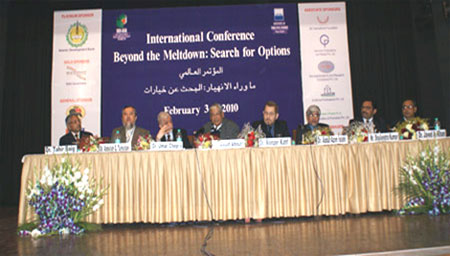 L-R: Dr. Tahir Baig, Dr. Abdullah Turkistani, Dr. Umar Chapra, Dr. Ausaf Ahmed, Dr. Monzer Kahf, Dr. Abdul Azim Islahi, Mr. Shailendra Kumar, Dr. Javed A. Khan


This business session (first of the day and fourth of the series) was chaired by economist and former head of special assignments of Islamic Development Bank (Jeddah), Dr Ausaf Ahmad. In his introductory remarks he cautioned the participants not to compare the conventional financial and banking operations (which were nearly four centuries old) to Islamic finance and banking (which were less than four decades old).

Advisor to Islamic Development Bank (Jeddah) and a senior Islamic economist, Dr Umar Chapra, traced the causes and mechanism of the US-led financial meltdown. Quoting US Federal Reserve chairman Ben Bernanke Dr Chapra said "abusive, unfair and deceptive lending" was at the root of the meltdown.

He quoted Prof. Joseph Stiglitz and said there were a 100 financial crises in the last four decades. To Stiglitz it had to do with "excessive, impudent lending". That, in turn was because of greed and unscrupulousness, breakdown of market discipline in the financial system, and lack of regulation.

The mechanism involved was: sale of debt, securitisation, collateralisation of debt obligations, risk passed to somebody else, banks not responsible for the mess.

Dr Chapra went on to explain how Islamic economic principles could help. "Islam demands adl (justice) in every human transaction and what was going on was not just or fair", he said. To avoid a repetition of the experience he suggested: (1) asset must be real, not notional (2) the seller must be the owner of what he or she sells (3) debt must be close to the economic growth rate (4) debt cannot be sold (5) leverage must be controlled.

Dr Chapra said these prescriptions were based on the teachings of Islam, which encouraged risk-sharing and qarz hasan (literally "beautiful loan") that is interest-free. He also cautioned against the role of ratings agencies that had failed miserably to anticipate the meltdown.

Dr Abdul Azim Islahi of Islamic Economics Centre, King Abdul Aziz University, Jeddah, traced the origin of Islamic economics from the 19th century India. He analysed the contribution of Indians to this discipline over the last 100 years.

Director, International Finance Islamic Economics Centre, King Abdul Aziz University, Dr Abdullah Q. Turkistani, said the Islamic finance industry had grown to a size of $800 to 1000 billion, yet it was only one percent of the total industry". He hoped that it would grow faster in the days ahead.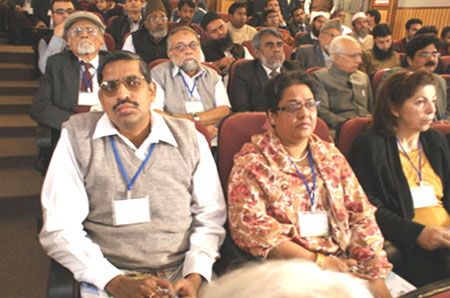 View of Audience


As only 40 percent of Muslims had transactions with banks and the Islamic financial operations were being run by Western professionals, Dr. Turkistani wondered whether Islamic finance would be "hijacked someday".

Chairman, Institute of Islamic Economics and Development Studies, Dr Tahir Beg, asked why it was that every time there was a recession, America was busy fighting a war. Whether it was World War II, Vietnam War, the wars in Afghanistan and Iraq, some economic crisis was always there in the background. He wanted this connection between economic crisis and war to be studied closely.

Dr. Javed Alam of Jaima Millia Islamia explained the theoretical basis of meltdown and CEO Eastwind Capital Advisors Shailendra Kumar explained the principles on which Eastwind (in collaboration with IOS and Indo-Arab Economic Cooperation Forum) had created the India Islamic Index a few years ago.

Consultant of Islamic Banking and Finance, Qatar, Dr Monzer Kahf, aid that a long-term solution to financial crises lay in Islamic economic principles. The latest problem arose because the US sub-prime loan was not creating wealth, but only manipulating the financial market. He laid down some principles: (1) you earn only when you own real assets (2) no fake assets (3) no speculation, (4) not too many derivatives (5) morally sound, government-guided insider market regulation (6) no credit and insurance derivatives.


DAY-2
Business Session-V
Theme:- Post-Recession: A Search for Greener Options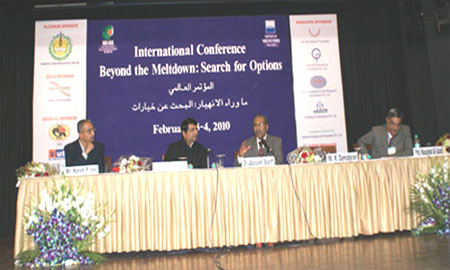 L-R: Mr. Harish P. Iyer, Mr. R.P.N. Singh, Dr. Abusaleh Shariff, Prof. Naushad Ali Azad



This session was chaired by Dr Abusaleh Shariff.



Union Minister of State for Road, Transport and Highways, RPN Singh, laid stress on development of infrastructure for India's continued economic expansion. He said Indo-Arab partnership in road building and public-private partnership offered tremendous scope.

Consultant Professor, Centre for Applied Risk Management, TA Pai Management Institute, Harish P. Iyer said risk management and risk modelling exercise was crucial to economic expansion and the way knowledge was managed before, during and after the exercise mattered a lot.

He said the narrative of a certain age contained the Zeitgeist. "Earlier the epithet was 'e', like e-governance or e-finance. Now the epithet is 'g' like g-technology, 'g' standing for green".

However, the narrative could be misleading, he cautioned as the green technologies adopted by the developed countries could be upto 300 times costlier than the technologies already in use in the developing world. In fact, such technologies could be even unaffordable to the developing world.

Prof. Naushad Ali Azad of Jamia Millia Islamia, New Delhi, said that the real economy had not kept pace with the financial and monetary sector.

Despite clever innovations by the finance sector there was a threat now of deglobalisation because of creeping protectionism and allied trends.

In an intervention, the chairman of the session Dr Abusaleh Shariff said the food-insecure groups in villages were not benefiting sufficiently from programmes like NREGA. In his recent tours of research in areas of the country (including his native village in Karnataka) he found that things had not changed over the last several yeas. Entitlements like right to education and right to work had still to take hold. The number of the poor in the country could be around 400 million and an escalation of poverty was possible if concerted corrective action was not undertaken.



DAY-2
Valedictory Session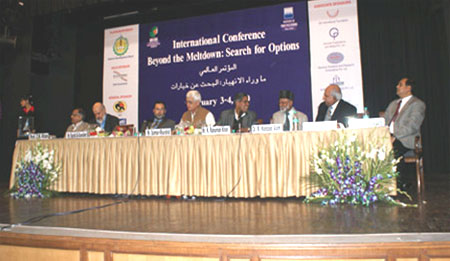 L-R: Prof. Z. M. Khan, Mr. Rashid Al-Suwaiket, Dr. Abdul Rehman El-Khereji, Mr. Salman Khurshid, Mr. K. Rahman Khan, Dr. Mohammad Manzoor Alam, Prof. Dr. Vinaysheel Gautam, Mr. Ravi Kishore


This session was chaired by Union Minister for Corporate Affairs and Minority Affairs, Salman Khurshid, who said that Indian Muslims were "unique", distinct even from Bangladeshis and Pakistanis. "There is some deficit here, particularly the gap between what the Constitution provides for and what it turns out to be in real life", he said.

India's strength lay not only in the Constitution, but also from its ethos which derived from the Sufi-Bhakti tradition, he said. That had curbed our greed and spendthrift behaviour, the underlying causes of the financial meltdown of 2008-2009.

Speaker: Mr. K. Rahman Khan, Hon'ble Deputy Speaker Rajya Sabha

He informed the gathering that the Equal Opportunity Commission, that was on the anvil, would provide new bases for the uplift of lagging sections of our society.

Dr. Mohammad Manzoor Alam in his "A Few Words" pointed out towards unequal development and the potential of Islamic finance and interest-free banking to rectify quite a few flaws in the system.

The valedictory address came from Deputy Chairman of Rajya Sabha K Rahman Khan.

The resolution (Delhi Declaration) was read out by Ravi Kishore and a vote of thanks was proposed by Prof. ZM Khan.

Speaker: Mr. Salman Khurshid, Hon'ble Minister of Corporate and Minority Affairs, Govt. of India

The following resolution was passed as Delhi Declaration:


Delhi Declaration
By the international conference
On 'Beyond the Meltdown – Search for Options'


We, the participants of the international conference on 'Beyond the Meltdown – Search for Options', organized jointly by the Indo-Arab Economic Co-operation Forum and the Institute of Objective Studies, having deliberated on five aspects of the theme over February 3-4, 2010, at India Islamic Culture Centre, New Delhi, seek to express our opinion as follows:

In this contribution of the distinguished opinion-leaders, bureaucrats, academics, journalists, researchers both from India and abroad and other professionals is duly acknowledged.

The Forum came to the considerate conclusion that however be the effects of the meltdown measured the world in general and, that of financial operations, have changed forever.

The instruments of regulation and governance in the world, and in India, need a careful re-look. There were gaps, anachronisms and overlaps which contributed in no small measure to the misfortune which befell millions of innocent people, some of whom never recovered.

This Delhi Declaration therefore urges all stakeholders towards working for a new governance and financial architecture that is both comprehensive authentic.

The conference resolves to


Create an Indo-Arab Fund for Development of entrepreneurship and to establish an Islamic venture capital fund.


Urge the Government of India to accept the recommendations of Committee on Financial Sector Reforms of Planning Commission, under the chairmanship Dr Raghuram Rajan, with regard to interest free banking in India.


Create an institutional mechanism to promote investment in specific sectors/ industries, namely infra-structure, environment, energy, agro-based, tourism and healthcare.


Facilitate easier travel norms, in order to promote investment and joint ventures in Indo-Arab region.
The Forum and the IOS may take fresh initiatives in conducting research to study and evaluate various aspects of cooperation within the Indo-Arab region.