Two-day Conference on Regional Dynamics, Economic Growth and Welfare

On 15-16 September, 2012 at Mt. Abu, Rajasthan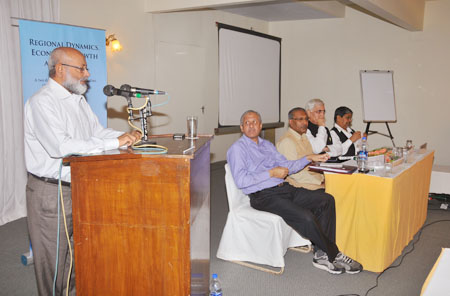 IOS conference in collaboration with CRDDP and India-US Policy Institute outlines major concerns, issues and policy orientation for days ahead.

Mount Abu, Sep. 15, 2012: A two-day conference on "Regional Dynamics, Economic Growth and Welfare" began here today. It was jointly organised by the Institute of Objective Studies (IOS), Centre for Research and Debates in Development Policy (CRDDP), New Delhi, and US-India Policy Institute, Washington DC. Dr. Balchandra Mungekar said in his inaugural address that the historical factors and natural advantages were to be considered. Gujarat, the state with a long coast and history of trade with foreign countries, had a relative advantage. Yet Gujarat was doing worse than a number of states, in both economic and welfare indicators.

Justice Rajinder Sachar in his presidential address said that the constitutional mandate was to address equity. There were 420 million multi-dimensionally poor in India. Decline in agricultural output was disturbing; calorie intake had gone down as well. Globalisation was not new to India he said, it was there even before the British came to this country.

There are a number of controversial issues facing India. Poverty was the worst human rights violation as per Human Rights 2010 report: Rights of Minorities and Poverty Versus Deficits.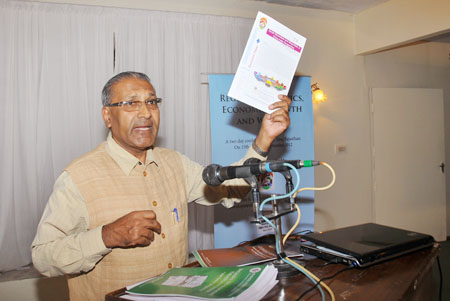 Dr. Amitabh Kundu, Chair Session 1, said the retarding economic growth was a global phenomenon but India had not done badly. It was "hanging on", he said. "Are the regional differentials to be weighted by population?", he asked. Inequalities had gone up, rural-urban inequality was far too high, and increasing. Female wage discrimination was very high. Bihari migration to Maharashtra had declined and labour market had become more inflexible.

Ashwini Kumar talked about causal effects of social movements in the past and asked as to why the development of a state was linked only with the political leadership. Contribution of the civil society to development was no less significant. Emphasis on growth alone often excluded the deprived.

Dr. Rakesh Basant in his Background Paper No. 3 said, generally numbers were taken casually but there was a need for a closer look. Flow measure provided a better picture. "What are the policy options? Regional variations are important, supply side variables are important", he pointed out. Would the new investment in higher education create equity or increase disparity? he asked. It was eligibility which was important and social mobilisation was a necessary condition to improve higher education.

Dr. Zoya Hassan said there was very little post-liberalisation period analysis. There were two interesting comparisons – UP and Gujarat, and UP and Kerala. UP over the last 3 years was a classic case of stagnant development. Social inequality in UP was much less. The relationship between economic growth and politics was as important as with social movements. Many states did not have Left movements, one of them being Gujarat.

Justice Sachar said the working class movement in Gujarat, visible in textile industry, used the legacy of Mahatma Gandhi. Gujarat politics was majoritarian and divisive, but UP's politics was inclusive and accommodative. Guha's book on Dalit Politics in UP and Rajasthan, RTI movement and employment guarantee movement were referred to by Justice Sachar, who said, they were not radical movements.

Comments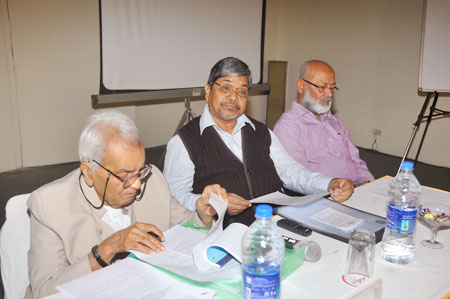 Mr Mungekar said Kerala's and TN's social movements were egalitarian, Maharashtra's were not. Therefore, state-specific variations were important. Dr. Jeemol Unni said India's rural development report, convergence in human development, per capita consumption and convergence in HD variables had to be looked into. Higher education levels may not be supply side alone, but also demand related.

Dr. Amirulla Khan was of the view that questions like why Muslim participation was higher in AP and Karnataka may be supply-side issues. Communal riots during early period had to do with a range of issues, from Hindutva to Telugu pride. This was a national issue.

Dr. Abdul Shaban asked, "Can Gujarat be called a developmental state?" Irfan Engineer opined that Guajarati nationalism was akin to Hindutva. Dr. Anil Gumber was of the view that migration was one of the reasons for social discord. Excess capacity in Kerala led to migration. He referred to demand for and return on the investment on education. Negative returns on investment on education in UK and USA was being reported.

Zameer Pasha said the laggard states were more inclusive. How come the laggard states were doing better? he asked.

Panel Discussion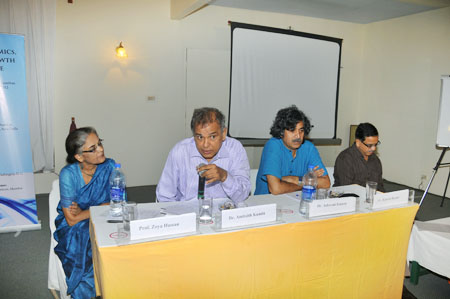 The panel discussion was chaired by Prof. J.S. Bandukwala, who observed that the Muslim community in Gujarat should come out to build its own civil society, use its own institutions (zakat and wakf) to address deprivation. Fr. Dominic asked, "How can we steer development?" He quoted from Verghese Kurian's article in the Asia Age, "Thank you very much for the housla, pragati and anand". Father Dominic advised to instill self-confidence in people. A certain model of development had helped masses. Rather than using regional examples, an example could emerge from the communities. The Christian community was the most developed as educational institutions were developed by missionaries. It did not stop there. A lot had to be done in the field of development.

The church leader said, the Catholic Church had clear social teachings: rights of labour, human dignity and understanding of "new things" as well as teachings on justice and peace. Peace has to be talked about along with justice. There is a whole body of social teachings on how to do social work and focus on dignity of a human person. There was an order, JPIC – "Justice, Peace and Integration of Communities". There were models of how to steer development. "Church promotes equal rights", he asserted. Dr. Kumar Rajeev advised to link development with the political system, which needed to change, especially electoral reforms. Irfan Engineer complained that all Muslims in Assam were considered Bangladeshis, which was not true. The "big cake" was not accessible to Muslims in Assam. He feared that Muslims of Assam were targeted for deprivation of citizenship in the name of Bangladeshis. The percentage of inter-state migration in north-east was low and there was no evidence of high growth of Muslim population in Assam.

16th September

Dr. AbuSaleh Shariff's Talking Points: Why and how divisive forces keep on popping up across India. What role they have in inhibiting national growth. But do they promote local and regional welfare? Such divisive factors have strong undercurrents of social and local movements. Need to study these linkages between social structure and social movements with economic growth and welfare.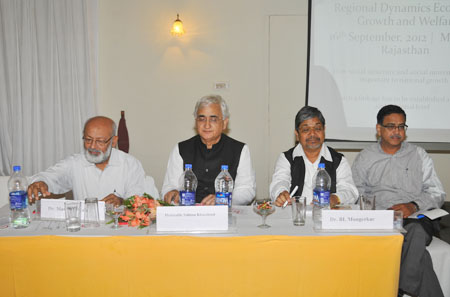 Does regionalism promote inclusiveness? What role (internal) migration plays in building a productive labour market, and does this promote a cohesive society? Experience of countries such as the USA, which was entirely built on migration from across the globe, shows that a strong and cohesive society is mostly promoted by rule of law and imaginative policy making. In fact, the system promotes not only pan-US nationalism, but it keeps intact, and often promotes, strong social and economic linkages with the country of origin. Legal entitlements and rule of law have to be non-discriminatory. All that needs institutional mechanisms.

Law Minister Salman Khursheed observed that the recent Indian economic growth story (notwithstanding more recent economic troubles) could be understood only if one disentangled the diversity of its economy. Economic diversity could be structured in a number of different ways:


• Sectoral growth profiles of the Indian states – there are relative advantages and uniqueness through which the state GDP accrues.

• Competitive environment within which India's top 20 or so states perform in terms of economic production, distribution, trade and welfare programmes.

• Besides location and natural advantages, one of the most important ingredients for enhancing growth is the human resource, people, and workforce.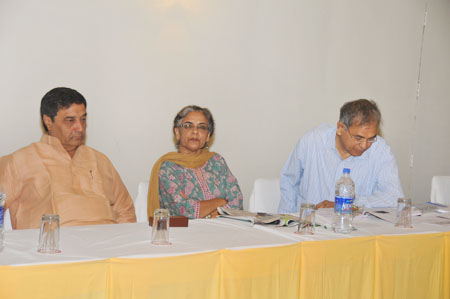 This seminar, after presenting the sectoral growth profiles and income growth of the states, intended to discuss and elaborate on as what determined the productivity of local labour. Besides, education which was the most dominant social factor for growth, was essential to find out what role the social structure and social movements played in promoting or inhibiting growth in India. Ordinarily, growth is linked to infrastructural development of a state or region. The present-day production, manufacturing and trade are essentially dependent on inputs such as uninterrupted power supply, road and rail transportation and other infrastructural factors (warehousing, cold storage chain etc.).

But what is almost totally forgotten is the role of labour and governance in facilitating and often enhancing the growth of state GDP. Very little, if at all, debate and discussion has taken place in this area. Each of the Indian states has uniqueness in terms of relative advantages emanating from quality of labour and social environment, including its social structure and inter-community harmony.

Social movements, beginning from the Indian national liberation movement of last century, have molded the characteristics of labour force. During the post-Independence period, one has seen a number of social movements steering the development of states such as Tamil Nadu, Kerala, West Bengal and Andhra Pradesh, just to name a few.

While the Dalit and Backward classes uprising was dominant in Tamil Nadu and to a limited extent in Kerala, West Bengal was the hot bed of communist ideology. Further, there are movements of other kind which do not shun violence and may even run a "parallel government" so to speak, such as in states and regions afflicted with Naxalism. This movement has adversely affected the development of states and regions.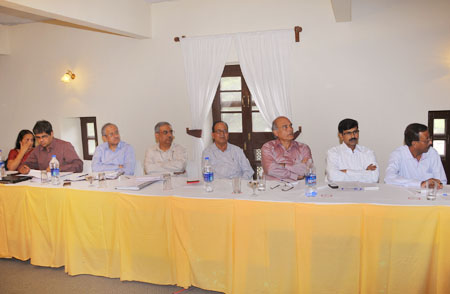 In many ways India is a country of several silent revolutions. However, now, with the growing access to technology these will become more visible and may also expand at a pace which could not be easy to contain if such revolutions are inhibitive to the national and regional growth. In this context, role of social movements and economic philosophy that prevails in a given region, state or sub-region is the most important element to study and understand.

There are inter-caste conflicts such as in UP, Bihar and Maharashtra. There are states with deep inter-religious and communal dispositions such as Gujarat and Assam. All such social conflicts as well as virtuous social movements are expected to have deep impact not only on the level of economic development, but also on the pace of growth and equity. They also impact international credit flows and investments.

A recent paper has highlighted first time the complex dynamism in growth and poverty alleviation at the state and sub-regional levels (Krishna and Shariff, World Development, April 2010). This, in many ways, has opened a major debate as to why and how states differ in developmental and welfare parameters. This seminar intended to brainstorm over these issues with an aim to initiate a research project so as to highlight geographic regions which can be ranked through an assessment of investment climate and take social structure into consideration.