IOS Facilitate to Dr. Khwaja Mohd. Ekramuddin, Director, NCPUL, Ministry of Human Resource Development (HRD), Govt. of India
April 27, 2012
at IOS Conference Hall-II
Organised by
Institute of Objective Studies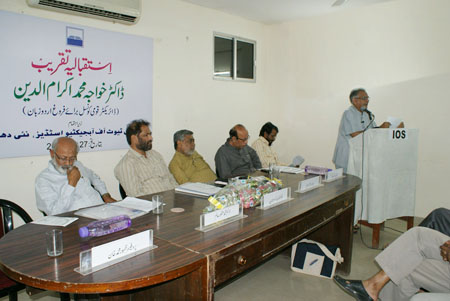 L-R: Dr. Mohammad Manzoor Alam, Chairman, IOS; Dr. Khwaja Mohd. Ekramuddin, Director, NCPUL, Ministry of Human Resource Development (HRD), Govt. of India; Prof. Akhtarur Wasey, Vice Chairman, Delhi Urdu Academy; Mr. Asad Raza, Head, Urdu Publications, Rashtriya Sahara; Mr. Abdul Qadir Shamsh, Rashtriya Sahara and Prof Z.M. Khan delivering his views
IOS Felicitation to New NCPUL Chief Dr Khwaja Ikramuddin
Institute of Objective Studies (IOS) felicitated on April 27, 2012 new Director of National Council for Promotion of Urdu Language (NCPUL) Dr Khwaja Mohammed Ikramuddin at a special function organized in his honour at its headquarters in New Delhi.

Prominent among those present on the occasion were Prof Akhtarul Wasey, Vice Chairman, Delhi Urdu Academy, Jamia Millia Islamia academics Prof M H Quraishi, Prof Haseena Hashia, IOS Chairman Dr M Manzoor Alam, IOS Secretary General Dr Z M Khan, legal academic Prof Afzal Wani, Supreme Court Advocate-on-Record Mushtaq Ahmed Alig, Urdu Duniya Editor Nusrat Zaheer and Bazm Sahara Incharge Haqqani Qasmi. Presided over by Urdu Rashtriya Sahara chief Asad Raza, the function was conducted by well known Urdu journalist Abdul Quadir Shams. On this occasion, a 16-point recommendation with regard to "Evolution of Urdu language in India" was presented to Prof Ikramuddin.

The new NCPUL chief, n his remarks, said that Urdu was a cultural language and also a source to demonstrate a specific culture. Dr Ikramuddin said when India was passing through cultural phases and reconstruction era, then Urdu worked as a means of communication, and it had already reached different parts of the world.

He also said that Urdu was the second biggest language of migration (Hijrah) which was going from one place to another with its cultural values. While disclosing that a number of states, including Jharkhand and Odisha, were at all not represented in the NCPUL, he declared to give representation to such states on priority basis.

Dr Ikramuddin sought full cooperation in his plan for a research wing or committee for the promotion of Urdu language from Dr Manzoor Alam and his think tank IOS that had undertaken the task of preparing text books in Urdu for madarsa and other educational institutions. Its Urdu text books included some ones prepared by Prof M H Quraishi and others on the subjects of Geography, Political Science and Seerah of Prophet Mohammed.

Responding to Prof Ikramuddin, Dr Manzoor Alam said that his thank tank was ready to render every possible hand of cooperation to reach research experts and scholars whom it had already identified in the last 26 years.

Prof Akhtarul Wasey said IOS was such a think tank from which we should get benefited. He opined if NCPUL tied up with IOS, it would prove to be an effective source of the promotion of Urdu language.

Dr Z M Khan said any language needed outside support and cooperation also. Only internal efforts were not enough to promote it, he emphasized.

In his presidential address, eminent journalist and Urdu Sahara chief Asad Raza said Urdu language existed in areas from Kashmir to Kanyakumari. He stressed the need for raising voice through NCPUL for the recruitment of Urdu teachers in the schools in the Urdu-spoken areas. He urged the IOS to provide proper guidance to NCPUL to the cause of the promotion of Urdu language.