Interactive Session on Producing Teaching and Reference Material to support Academic Programmes in Islamic Perspective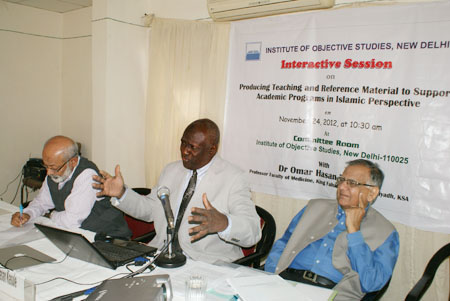 Prof. Omar Hasan Kasule delevering his views

Prof. Omar Hasan Kasule visited the IOS Headquarters on 23-24 November 2012 and interacted with the office bearers as well as academics and experts of various disciplines. On 23rd November Mr. Raju Mansukhani made a power-point presentation about emerging India. He specially focused on the educational scene in the country highlighting both, its merits and demerits, achievements and failure. He also focused on translation and publishing sector in India which has progressed by leaps and bound in the last few decades. He concluded that investment in education and publishing sectors was advisable.

Prof. Refaqat Ali Khan spoke about the difficulties and necessities of translation. Prof. Ishtiyaque Danish highlighted the fact that Muslim being knowledge deficient today need to benefit others and for doing so they need to translate in Urdu or the language they speak.

During the interaction on 24 November, 2012 Prof. Kasule said that 'the Muslim Ummah is faced with two kinds of crisis: academic crisis and the crisis of thought. The weakness and shortcomings, whether religious, political, economic, technical or military and strategic, have crept in the Ummah mainly because of the crises mentioned above.' Prof. Kasule teaches at Faculty of Medicine, in King Faisal Medical City at Riyadh. He expressed the above views while participating in a programme organized by the IOS on "Preparing Text and Reference Books". He said that the academic crisis can be solved or overcome by reforming the educational system and adopting new appropriate research methodologies. The most important thing to see is that all our efforts are guided by our concept of Tawhid. He further said that we need to work hard to progress in every field, medical science, engineering, natural science, social science and humanities etc.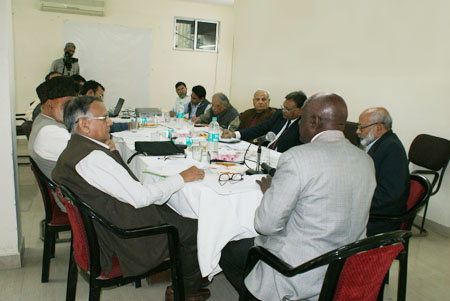 Prof. Omar Hasan Kasule talking with IOS Governing Council Members

He lamented that the books on various subjects available to us are not up to mark. They lack depth, critical insight and other similar qualities. Moreover, whatever we have, whether of good or bad quality, has not been properly advertised and as a result people have no access to them. It must be kept in mind that there is a huge demand for the kind of literature we are preparing or we intend to develop. We must act fast to meet people's demand. He also emphasized the need for translation of good works from one language and similarly our publications should also be of high quality, said Prof. Kasule.

Speaking on the occasion the IOS chairman Dr. M. Manzoor Alam agreed with the ideas expressed by Prof. Kasule and said that academic and intellectual crises are the biggest problems facing the Muslim Ummah today. He urged that collective effort was required to solve these problems keeping in mind the specific conditions of various countries and regions. The IOS in its 26 years of existence has done a lot of works and deserves to be encouraged in order to carry forward its mission. The IOS has published more than 300 titles. One third of these books have been written from a boarder Islamic perspective. Islamization of knowledge has been our guiding principle, he said. He emphasized that our intellectual efforts should impact on our time in the way, the works of the early Muslim intellectuals had influenced their time. This is the only way to move ahead, said Dr. Alam. He appreciated the intellectual contribution of Prof. Kasule saying his thought provoking books have inspired a lot many people and created intellectual awakening all over the world. Prof. Kasule is a man of action and all his works inspire people to work, said Dr. Alam.

Prof. Z. M Khan, Secretary General of the IOS introduced the Institute to the learned guest. He said that Prof. Kasule is not just a great expert of medical science but he is also a great Islamic scholar for which he is respected all across the world. He is a great thinker of the Muslim world and his concern for the development of Ummah is well known.

A large number of academics and intellectuals participated in the programme. Prof. Mohsin Usmani, Prof. M. Muqim, Prof. Saud Alam Qasmi, Prof. Nasim Zaidi, Dr. Arshi Khan, Dr. Zafar Mahfooz Nomani, Dr. Mohd. Tariq, Dr. Malika B Mistry, Dr. Saad bin Hamid and Mr. Ashfaq Ahmad participated in the programme.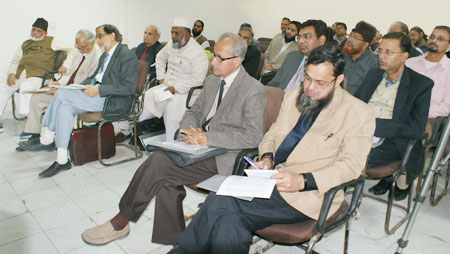 A view of audience