Group of Experts' Suggestions on
Wakf Amendment Act 2013

October 08, 2013 at IICC, New Delhi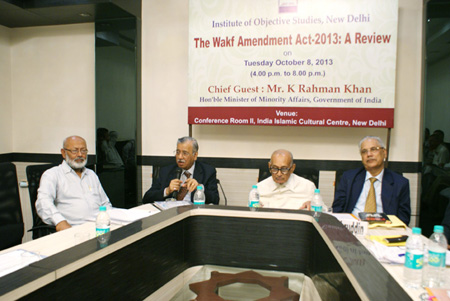 New Delhi, October 9: A group of experts, concerned citizens, jurists and activists has made suggestions regarding the Wakf Amendment Act 2013.

The group was brought together by Institute of Objective Studies at a conference for a review of the Act here last evening at India Islamic Culture Centre included the following:

Dr Mohammad Manzoor Alam, Chairman IOS; Justice Abdus Sattar Qureshi, former judge of the Gujarat High Court; Justice Fakhruddin, former judge of Madhya Pradesh High Court, Justice A.M. Ahmadi, former Chief Justice of India; Dr M. R. Haque (Qaiser Shamim) former secretary, Central Waqf Council; Syed Zafar Mahmood, president Zakat Foundation of India; MU Siddiqui formerly deputy secretary (Home); PA Inamdar and Dr Fakhruddin Mohammad, educationists.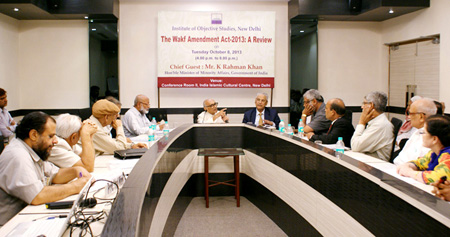 Following a long session of deliberations, they made the following 12 suggestions:
The government should ensure that, acting on the 1976 instruction of PM Indira Gandhi given to the chief ministers (reproduced by Sachar Committee), the Waqf properties occupied by the governments of the centre and states - should be vacated and restored to the state waqf boards.


The government should issue instructions that the Waqf properties shall be leased at not below the Current Fair Market Rent.


Newly incorporated 15/30 years lease should be consistent with objects of Waqf & should be as permissible in Islamic Law.


Waqf Board should be able to issue Lease Orders without the intervention of the State Government.


Secretary, Central Waqf Council should be of the level of at least Joint Secretary to the Govt. of India.


'Community' should be defined as Muslim community of India.


'Waqf premises' should be defined as mosque, graveyard, mazar, takiya, eidgah, imambara, dargah, khanqah, maqbara, anjuman, or land appurtenant or belonging to them.


Definition of 'Encroacher' should include one who has altered the property leased out to or occupied by him without prior written permission of the Board.


Waqf property should not be acquired without 'express consent' of state waqf board and not only 'in consultation with' it.


Official Member of state waqf board should be of the level of principal Secretary to state Govt or equivalent (not only of DS level).


Provision of 'Deemed Mutation' should be incorporated in the amendment Act.


Government should constitute National Board for Promotion of Education among Muslims to use surplus funds generated by the development of waqf properties (wherever not denied in waqf deed).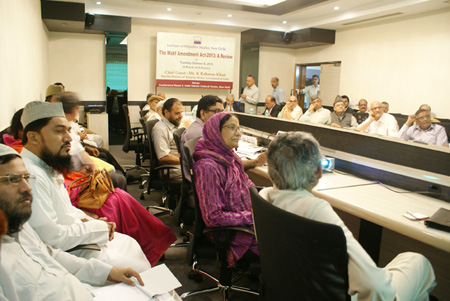 Proceedings of the Panel Discussion on Wakf Amendment Act, 2013